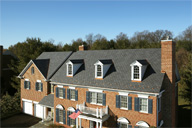 NewsUSA) – Looking to update your home's exterior with a look that requires little maintenance? With a few simple changes, you can add character and upgrade your home's curb appeal without adding items to your to-do list.

Explore endless design and earth-friendly siding options.

Is the siding chipping, staining or rotting? Your siding may need a power wash. If it does need replacement, talk with your local contractor about low-maintenance and environmentally friendly vinyl and fiber cement siding options.

Some styles, such as CertainTeed's CedarBoards Insulated Vinyl Siding, can increase the overall thermal performance of your wall by up to 30 percent, helping to reduce heating and cooling costs. Offering color retention along with resistance to wind, water, insect and chemical damage, vinyl and fiber cement siding is engineered to keep a home looking beautiful for many years.

Don't forget to look up.

Since a roof makes up 40 percent of a home's exterior, make sure yours is in tiptop shape. Use binoculars to look for missing, cracked, curling or decaying shingles. If any are spotted, it may be time to replace your roof.

Consider asphalt shingles, which can last many years and add dimensional appeal to your home. Shingles, such as CertainTeed's Landmark Solaris, can also reflect solar energy and radiate heat, making for a lower-temperature roof in the summer.

Create a comfortable "living room" outdoors.

Vinyl fencing displays consistent quality and appearance. It doesn't require painting, making it nearly maintenance-free and a great alternative to traditional materials.

A low-maintenance option to wood is Galveston with CertaGrain. Using an innovative texturing process, CertaGrain features an authentic wood-like appearance in an easy-to-maintain vinyl design while providing resistance to the decay, warping or splintering that are common with wood fences.

Adding a fence also functions as more than just a means of privacy. A fence provides security, enhances the curb appeal of a home and may increase the property value.

Make sure the work is done right, and partner with a qualified contractor.

Homeowners should be sure to work with a qualified contractor. Check with your local Better Business Bureau and seek contractors who are licensed, bonded and insured.

For more information on low-maintenance home improvements tips, call 800-782-8777 or visit www.certainteed.com.