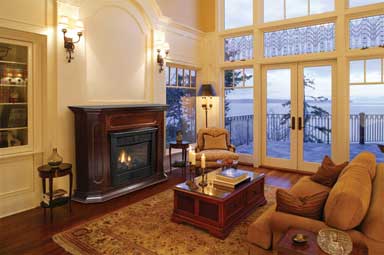 (NewsUSA) – As Old Man Winter makes his mighty push, 79 percent of Americans expect to pay the same or more to heat their homes as compared to last winter, according to a recent survey by the Vent-Free Gas Products Alliance, a section of the Air-Conditioning, Heating, and Refrigeration Institute (AHRI).
To save money on those heating bills, though, homeowners can take steps now to stay warmer and more comfortable this winter. For example, caulking and extra insulation are relatively inexpensive and easy projects that will pay dividends all winter.
Another way to cut home heating bills 20 to 35 percent is by installing a vent-free gas fireplace or heater in the room you use most. According to Sue Walker, chairwoman of the AHRI's Vent-Free Gas Products Alliance Section, this "zone heating" strategy allows you to turn down the central furnace and take advantage of the inherent efficiency of supplemental vent-free gas heating.
"For every dollar you spend on gas using a vent-free appliance, you get 99 cents worth of heat in your living space, as these products are 99 percent efficient," said Walker.
Vent-free gas products have been around for more than 30 years, according to Walker. "With more than 20 million units installed in homes, they are time tested for savings and safety.
Because a vent-free gas heating system does not require tearing out walls to run vent pipe, professional installation is surprisingly inexpensive, fast and cost-effective.
For a home with an existing wood-burning fireplace, converting it to a vent-free gas log set or insert turns a messy, inefficient system into a clean, hassle-free, highly economical heat source. Environmentally friendly vent-free appliances are heated with natural gas or propane, among the cleanest of all fossil fuels according to the U.S. Environmental Protection Agency. Both gases are domestically abundant and are secure sources of energy.
"Clean-burning fuel and super efficient operation — that makes vent-free a truly green heat source," said Walker.
For more information, visit ventfree.org.