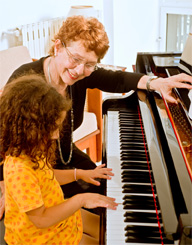 NewsUSA) – According to the Center on Education policy, No Child Left Behind's emphasis on reading and math has caused many schools to cut back on other areas, including science, social studies, art, music, gym, lunch and recess. But cutting back on music education may leave students at a disadvantage in reading and math.

Parents should consider music education's benefits when they help their children choose classes and activities throughout the school year. According to the College Entrance Examination Board, students in music appreciation score on average 63 points higher on verbal and 44 points higher on math when they take the SAT. A recent Gallup poll conducted by NAMM, the trade association of the international music products industry, shows that 94 percent of Americans think that learning music boosts children's overall intellect, while 91 percent believe that it increases on-the-job creativity later in life.

According to NAMM, learning music also teaches social skills, self-reliance, problem-solving, communication and confidence. Music students are less likely to use tobacco, drugs and alcohol, and more likely to enjoy school.

No wonder Michelle Obama is holding music education series at the White House, in which established artists teach aspiring musicians. The Obamas hosted the first series in June, which focused on jazz. The First Lady said that there is "no better example of democracy than a jazz ensemble; individual freedom, but with responsibility to the group."

Of course, American students need to receive music education not just at the White House, but also in their own schools. SupportMusic.com, a public service led by NAMM and the National Association of Music Education (MENC), encourages parents to advocate for music in schools. To download materials that can help you promote the importance of music in your local schools, visit www.SupportMusic.com.

Helping a child develop an appreciation for music is the first step in creating a lifetime of creativity and enrichment. NAMM and "Making Music" magazine offer the following tips for raising a musical child:

– Expose your child to music every day. Listen to all types of music. Play music at home and in the car.

– Make instruments readily available to children. Leave out old guitars, harmonicas, recorders, tambourines and maracas for easy access.

– Take your time. Music should be fun and entertaining. Pushing too hard could lead to negative attitudes toward music.

To find a music store near you or to find out more about the proven benefits of learning to play an instrument, visit www.wannaplaymusic.com.