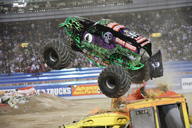 NewsUSA) – Some people might not consider sports entertainment or theatrical competitive events as real sports, but a growing number of Americans, over 5 million to be precise, are attending Monster Jam events, Supercross races, Arenacross races, Freestyle Motocross events and IHRA Nitro Jam drag racing events -; while looking for some good old-fashioned fun and competition.

"Sportive" entertainment might have started with the Roman Colosseum, but today's stadiums and arenas are featuring much more family-oriented entertainment, while still providing the same adrenaline rush. From the world's top monster trucks competing on circuits, crushing anything in sight including cars, semi-trailers, busses, small planes and more, to drag races, sportive entertainment has become Americana to the core.

Spectators flock to both the top stadiums and arenas in North America and Europe to see their favorite motor sports stars perform. Feld Entertainment, Inc., the company that brings classic shows like Ringling Bros. and Barnum & Bailey, Disney On Ice and Disney Live!, acknowledges motor sports entertainment's immense popularity. The company recently purchased Live Nation Motor Sports, Inc., which has been renamed Feld Motor Sports.

"With the addition of our motor sports division, Feld Entertainment can now offer families everywhere an even wider range of live family entertainment options," said Kenneth Feld, chairman and CEO of Feld Entertainment. "We plan to take Monster Jam and all of our motor sports events to even more domestic and international markets than ever before."

Monster Jam live events include three main elements: monster truck racing, monster truck freestyle and pre-show pit parties, where families can come to the venues early to get autographs and pictures with their favorite Monster Jam stars. In addition, many specialty events can take place at Monster Jam events like Quad Wars, Pro Arena Trucks and demolition derbies.

Many of the world's top monster trucks compete on the Monster Jam tour including the likes of Grave Digger, Maximum Destruction, Blue Thunder, Monster Mutt and Captain's Curse in addition to many studio-licensed brands like the Superman monster truck and Batman monster truck.

For more information, visit www.feldentertainment.com or www.monsterjamonline.com.