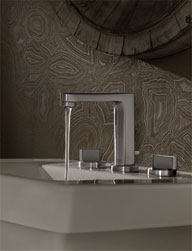 NewsUSA) – Decorating a bathroom on a budget is a lot like updating a wardrobe on a budget. Work with what you have, and use accessories to update and add the "wow" factor.

In the bathroom, accessorizing can even include bathroom sink faucets. "With a pre-assembled drain assembly such as Speed Connect, a new faucet is easier to add than a new coat of paint," says Gray Uhl, design director for American Standard. "Even better, top performing lifetime finishes and drip-free, solid brass faucets start as low as $100."

Trend No. 1: Warmer Finishes. Special finishes in warmer tones such as satin nickel, oil-rubbed bronze and blackened bronze are currently popular in hardware and faucets, coordinating well with creams and browns in linens and wall décor. "Matte black finish is the proverbial height of fashion for faucets and accessories right now," says Leslie Clagett on her blog, kbculture.blogspot.com.

Trend No. 2: American Minimalism. "Styles such as the Moments, Copeland and Princeton faucet collections echo the same geometric lines and styling familiar in European contemporary design, but warmer and softer," says Uhl. "American minimalist faucets and accessories look best when paired with warmer tones and rich wood surfaces in cabinets and bathroom furniture." Uhl notes that an easy way to get the look is with a design-matched collection such as Tropic, which includes furniture, faucets and fixtures.

Trend No. 3: Escape. Turn even a small bathroom into a spa experience with a serene, monochromatic look and plant oils that create a soothing aroma. Asian-inspired design such as the Green Tea bathroom sink faucet completes the look, with the added benefit of a discrete pull-out spout, which makes it easy to rinse the sink or wash delicate clothing items or one's hair.

Trend No. 4: The Responsible Bathroom. Look for the WaterSense label on new bathroom faucets. The WaterSense label is an assurance that water use will be reduced by 30 percent or more, without sacrificing performance. Replacing three older faucets with three WaterSense-labeled faucets can save almost $500 and 74,000 gallons of water per year.

Style Trend No. 5: You. Most importantly, don't be afraid to be yourself. Bathrooms are personal spaces, so personal statements work well, including tasteful humor. After all, if you can't be yourself in the bathroom, where can you be yourself?