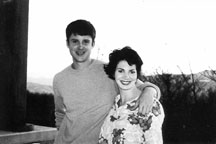 NewsUSA) – For Erin Wilhelm-Hilkey, a film production manager, and Eli Tate, a C-130 pilot in the Air Force, their upcoming marriage was a chance to help others begin their lives anew as they began their own.

When the excess of a wedding and the planning it entails became overwhelming, the couple from Chapel Hill, N.C., decided to register at Heifer International to help them keep perspective. The 63-year-old organization provides livestock and agricultural training to families in communities struggling with hunger and poverty.

"Our wedding celebration was the perfect time to contribute to Heifer and to spread their message of hope," said Wilhelm-Hilkey. "It is so rewarding to be able to help others begin a new life for themselves as we are embarking on ours."

Through Heifer's gift registry, a couple can create a home page displaying their photo and a statement about why they support Heifer. Gifts on the registry may include chickens, sheep, dairy cows, honeybees and other food- and income-producing animals.

"We chose Heifer because we truly believe that they are building communities that will stabilize developing regions and will change the world," said Wilhelm-Hilkey. "My grandparents were involved in Heifer at its inception over 60 years ago, and we are proud to continue that legacy by volunteering and making contributions."

Friends and family of the couple can read about exactly what their gift will provide. Through the registry, couples are able to see who has contributed, allowing them to easily keep track of gifts and thank people accordingly.

And although they won't have wedding china to pass on to their grandchildren, Wilhelm-Hilkey and Tate say their hope is that, through small actions like this one, they will be able to pass on a better world to future generations.

"Instead of [us] receiving plates and stemware, there will be communities that will develop pride, education, hope, self-reliance and a strong sense of their own accomplishments," said the bride.

For more information, visit www.heifer.org or call 800-696-1918.