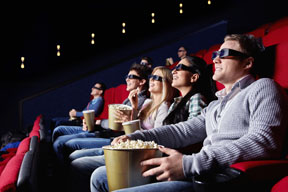 (NewsUSA) – The film industry is undergoing an overhaul that is creating excitement throughout. Video-on-demand (VOD) has changed the DVD game, and as a direct result, major studios are focusing exclusively on high-budget films like "Avatar" and "Transformers" to attract the masses. Now, these "tent pole" films are opening new doors for smaller studios.
As noted by animation specialist and studio executive Andy Hendrickson, tent pole movies rely on the viewer's obsession with action-packed spectacle as opposed to adept storytelling. But where does that leave smaller-budget pictures?
"The industry is saturated with franchises like "Harry Potter" or "Twilight," TV spin-offs like "Sex and the City," not to mention sequels and remakes," explains Peter Hoffman, CEO of Seven Arts Pictures. "However, this shift creates opportunities for smaller independent film studios, like Seven Arts."
As is the case with several industries, massive changes can be attributed to the sweeping wave of digital technology. More people than ever are watching movies at home through new digital streams.
Big studios see tent pole movies as the strategic way to generate billions in revenues, but the demand for quality, smaller-budget films that focus on characters and plot development can be strong at the box office.
"The potential success of small-budget pictures is demonstrated by films like "The King's Speech," "Black Swan" and "The Kids Are All Right," says Hoffman. "But it's now solely up to independent studios, like Seven Arts, to produce plot-driven films that strive for merit in addition to box-office numbers."
Tent pole films are the latest trend in Hollywood. And now, smaller film studios are seeing greater commercial success as a result.
To learn more about the changing film industry, visit www.7artspictures.com.