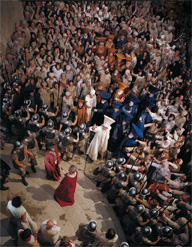 NewsUSA) – By day, Andreas Richter, 32, works as a psychologist. But starting in 2010, he will lead a cast of 1,000 actors in the role of Jesus Christ, opposite a flight attendant playing Mary Magdalene and a public administrator playing Judas.

And this isn't amateur theater. Richter and his castmates will endure rigorous training and rehearsals, not to make it big, but to carry on their hometown's 375-year-old tradition. Every 10 years, almost half of Oberammergau works together to put on a Passion Play depicting the last weeks of Christ's life, his death and his resurrection. And they've been doing it since 1633.

How did such a thing get started? In the autumn of1632, the plague struck Oberammergau, killing 84 people by the end of that year. No one knew about rats and fleas or how the plague was spread — the common theory was that God had decided to punish his people with pestilence. Making an appeal to God was only the next logical step.

So in 1633, Oberammergau's leaders went to the local church and vowed that they would perform a Passion Play every 10 years. And from that day on — it's on historical record — no Oberammergau citizen ever died of plague.

At the time, Passion Plays were common throughout Bavaria. But Oberammergau's unique in having kept up the tradition. And in performing the Passion Play on such a large scale — the town's theater sits 4,700, there can be a 1,000 actors on stage at once and about 2,500 of Oberammergau's 5,300 citizens will participate in one way or another. And of course, this massive, one-of-a-kind event only takes place once a decade. No wonder tickets sell out long in advance.

The dedication the actors display is astounding. Both men and women grow out their hair before the play. Eva-Maria Reiser, the flight attendant playing Mary Magdalene, is taking a summer off, without pay, to play her role.

No one can participate in the play unless they are native to Oberammergau or have lived there for at least 20 years. Both the director and the composer can trace their families back to 1633 — their ancestors made the original vow. Talk about a family tradition.

For more information and to get tickets for the 2010 Oberammergau Passion play (it won't be held again until 2020), visit www.oberammergau-passion.com.