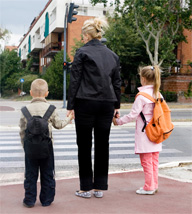 NewsUSA) – Many households feature two working parents, making it tougher to ensure young children's safety. But some parents find support in peer groups, where they can discuss issues, vent frustrations and learn how to communicate with their children better.

Being able to share concerns and frustrations with peers or experts helps parents maintain proper perspectives. Some companies realize that parent focus groups can benefit their employees. For example, one New Jersey-based pharmaceutical company, Corporate Child Care Services at Roche, developed a program to support the working parents that they employ.

Each month, dozens of parents meet to share personal insights. The program, started in 1999, was originally designed to support parents whose children were enrolled at Roche's Corporate Child Care Center. But due to popular demand, the program expanded in 2002 to all employees at the site.

"The most important thing for us is to know that we are contributing to family stability," said Dianne Keel-Atkins, director of Roche Corporate Child Care and founder of the Parent Focus Group program. "That means not only helping the children become productive, but also helping their parents succeed at balancing work and family life."

Over a box lunch, parents discuss and provide guidance on a variety of topics, including school readiness, diversity appreciation and stranger awareness. Most recently, the Parent Focus Group hosted the local Nutley Fire and Police Departments in New Jersey for discussions on the importance of stranger awareness. The speakers provided parents with valuable tips on how to increase their children's safety knowledge, including:

1) Communication: Make sure to sit down and talk with your children about your family's safety plan.

2) Who's Who?: Not all "strangers" are actually strangers. Tell your children whom they can leave with if you are not with them.

3) What's the Magic Word?: Set up a secret code word, password or phrase with your child to ensure they go with someone who has been authorized by you in the event you are unable to pick them up.

4) Fire Alarm: Tell your child to scream, "Fire!" if someone puts them in danger. Screaming, "Fire!" is usually taken more seriously than "Help!" especially coming from a child.

5) Be Aware of Your Surroundings: Teach your children to be aware of their surroundings and the behavior of those around them. Tell them to keep their iPod volume at a reasonable level so that they can hear approaching people or cars.