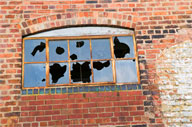 NewsUSA) – When you think about safe communities, your thoughts probably turn to gates and security systems, not windows. But crime experts and sociologists agree that unrepaired broken windows can herald apathy, decay and crime.

Communities that experience crime share similar features, including abandoned houses, faulty traffic flow, limited surveillance, plant overgrowth, vacant lots, absentee landlords and inadequate street lighting. These areas of decay provide places for criminal activity, like prostitution and drug-dealing, to take place.

Crime experts say that Crime Prevention Through Environmental Design (CPTED), or the effective design of buildings and spaces to reduce crime and improve safety, can improve residents' quality of life.

To help neighborhoods use CPTED, the National Crime Prevention Council (NCPC), on behalf of the Department of Justice's Community Capacity Development Office, helped ten communities "weed and seed," or "weed" out problems and "seed" in services and solutions.

Each site's Weed and Seed Steering Committee held training sessions for the police, the housing agency, public utilities, residents and other governmental agencies. They were led through an action-planning process that organized concerns and challenges and identified specific steps community stakeholders could take. The sites were also provided ongoing, follow-up technical assistance.

In Montgomery, Alabama, the local power company agreed to replace street lights that had been broken or vandalized and the city created a gunfire-detection system to aid police response. In Manchester, New Hampshire, an abandoned lot used for illegal activity was converted into a skate park for youth. Troy, New York, converted an unsightly former farmer's market area into a vibrant children's park with a garden.

Each year, the Department of Justice's Community Capacity Development Office accepts applications from communities hoping to become new Weed and Seed sites. If you think your community could benefit from CPTED, visit www.ojp.usdoj.gov/ccdo/welcome_flash.html for more information.