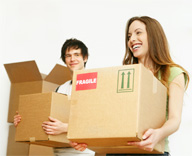 NewsUSA) – You're excited to start living in your new home, but before you start decorating, entertaining or relaxing with coffee in your new breakfast nook, you have to move your possessions from point A to point B. But with a little planning, you can make your move without shattering your great grandmother's vase or slipping a disc while carrying kitchen appliances.

PakMail (www.pakmail.com), a company that specializes in packing, custom crating and shipping, offers the following tips to help you get your move on:

* Give yourself more time than you think you need. It doesn't seem like you have that much stuff — until it's time to neatly organize everything into cardboard boxes and load them into moving vans. You will probably need at least a month to pack. Start by going through your rooms and taking a quick inventory — figure out what you need to pack, and what you'd rather freecycle.

* Make sure you have plenty of packing materials. You will need more boxes than you expect. Make sure that you have 10 new boxes for last-minute additions. Other useful items include thick markers, bubble wrap, packing tape and foam wrap. PakMail sells a full line of shipping supplies, including boxes, bubble wrap, foam wrap, tape, labels, kits, packing peanuts and sealing tubes. PakMail also offers custom packaging for oddly shaped items.

* Choose the right box for your item. Heavy objects, like books, should always go in smaller boxes. Certain items, such as mattresses or mirrors, may require special packaging. It's always best to ask an expert. Try to keep boxes under 30 pounds.

* Organize your packing. As you're packing, assign each box a number. Create a list where you record everything that was put in each box. Also, decide where the boxes should go. For example, if boxes one through three contain DVDs, books and video games, make sure they end up in your new living room.

* Don't forget your suitcase! Make sure you have enough clothes and toiletries to last three days in your suitcase, so you don't have to buy new clothes if you can't unpack your wardrobe immediately. Never pack important personal documents, medications or valuables — keeping them with you will provide easy access, not to mention help prevent theft or loss.

For more information, visit www.pakmail.com.