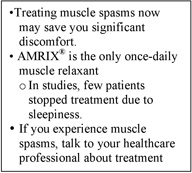 NewsUSA) – You're outside doing yardwork, but as you stand up, you suddenly feel intense pain in your back. Many people experience pain with seasonal activities — whether it's playing games with their children or shoveling snow. As frequent as these injuries are, you may not know that muscle spasm may be underlying the pain.

In fact, eight out of 10 people say that certain day-to-day activities contribute to muscle spasms, according to a 2007 Harris Interactive survey.

Muscle spasms can last for up to three weeks, but with early treatment, significant discomfort may be reduced. Effective treatment may include rest, physical therapy, medicine for pain and muscle relaxants.

Most skeletal muscle relaxants are approved for use three times a day. AMRIX (Cyclobenzaprine Hydrochloride Extended-Release Capsules) is the only once-daily muscle relaxant. Its extended-release capsule is designed to last a full 24 hours with a single dose. AMRIX is a prescription medicine used along with rest and physical therapy for relief of muscle spasm associated with acute, painful musculoskeletal conditions.

In studies, AMRIX was taken between six and seven at night and was well tolerated, and few patients stopped treatment because of feeling sleepy. The most common side effects were dry mouth, dizziness, fatigue, nausea, upset stomach and constipation.

If you experience muscle spasms, seek treatment now by visiting your health care professional to discuss available options to relieve pain and treat the underlying condition. You should not take AMRIX if you are taking or have recently stopped taking certain antidepressants; are 65 years old or older; or have liver problems, certain types of heart problems, or an overactive thyroid. To learn more about AMRIX or to see the full prescribing information, visit www.amrix.com.

The information in this article is provided by Cephalon, Inc., the manufacturers of AMRIX (cyclobenzaprine hydrochloride extended-release capsules). AMRIX is indicated as an adjunct to rest and physical therapy for relief of muscle spasm associated with acute, painful musculoskeletal conditions. AMRIX should be used only for short periods (up to 2 or 3 weeks). AMRIX has not been found effective in the treatment of spasticity associated with cerebral or spinal cord disease or in children with cerebral palsy. AMRIX is contraindicated in patients who are hypersensitive to any of its components. AMRIX is contraindicated with concomitant use of monoamine oxidase (MAO) inhibitors or within 14 days after their discontinuation. AMRIX may have life-threatening interactions with MAO inhibitors. AMRIX is contraindicated during the acute recovery phase of myocardial infarction; in patients with arrhythmias, heart block conduction disturbances, or congestive heart failure; or in patients with hyperthyroidism. AMRIX may enhance the effects of alcohol, barbiturates, and other CNS depressants. In clinical trials, the most commonly reported adverse reactions (greater than or equal to 3%) with AMRIX were dry mouth, dizziness, fatigue, nausea, dyspepsia, and constipation. AMRIX should be taken at approximately the same time each day.

AMRIX is produced with Diftucaps drug delivery technology (Eurand Pharmaceuticals, Inc.).

For complete product information, visit www.amrix.com.