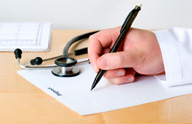 NewsUSA) – Chronic lymphocytic leukemia (CLL) is the most common form of adult leukemia. Last year, the American Cancer Society estimated that nearly 16,000 Americans were diagnosed with this disease.

Jason Whiting, Sr. never imagined he would be one of them.

Several years ago, 36 year-old Jason, a Baltimore-based father of two, visited his doctor to see why the lymph nodes in his neck were enlarged. He was immediately referred to Dr. Stephen Noga, director, medical oncology/hematology at Alvin & Lois Lapidus Cancer Institute, who completed blood and bone marrow tests, which confirmed that Jason had CLL. With the diagnosis came mixed emotions — fear, shock and relief that it was detected early.

Given the early-stage diagnosis, Jason experienced minimal symptoms, and he and Dr. Noga decided to initially take a "watch and wait" approach to treatment -; a common practice for CLL patients. Over the next several years, Jason had blood tests and CAT scans to monitor his disease progression.

In May 2009, Jason experienced discomfort in his chin and neck, and a CAT scan showed that the cancer had spread to lymph nodes in his abdomen and chest. Both Jason and Dr. Noga agreed -; it was now time to begin treatment and the fight against cancer.

"It was important that Jason be comfortable with his treatment approach, and we spent a lot of time discussing options," said Dr. Noga.

Dr. Noga prescribed TREANDA, and after six cycles of TREANDA, Jason has achieved partial remission.

Jason didn't fight this battle alone. Throughout his treatment, Jason relied on the support of his family and his coworkers.

"When I was diagnosed, I made a decision to beat CLL," said Jason. "I knew I had to stay positive and motivated so the cancer would not get the best of me. I am thankful for everyone who supported me through the experience."

Grateful to have achieved partial remission, Jason can be found practicing martial arts and spending time with his children — something that he never takes for granted. Individual results may vary.

TREANDA® (BENDAMUSTINE HCL) FOR INJECTION IS APPROVED BY THE FDA FOR THE TREATMENT OF PATIENTS WITH INDOLENT B-CELL NON-HODGKINS LYMPHOMA (NHL) THAT HAS PROGRESSED DURING OR WITHIN SIX MONTHS OF TREATMENT WITH RITUXIMAB OR A RITUXIMAB-CONTAINING REGIMEN. TREANDA IS ALSO APPROVED FOR THE TREATEMENT OF PATIENTS WITH CHRONIC LYMPHOCYTIC LEUKEMIA (CLL). EFFICACY RELATIVE TO FIRST LINE THERAPIES OTHER THAN CHLORAMBUCIL HAS NOT BEEN ESTABLISHED.

The following serious adverse reactions have been associated with TREANDA: myelosuppression, infections, infusion reactions and anaphylaxis, tumor lysis syndrome, skin reactions including SJS/TEN, other malignancies, and extravasation. Some of these reactions have been fatal, including myelosuppression, infections, and SJS/TEN (when TREANDA was administered concomitantly with allopurinol and other medications known to cause SJS/TEN). Patients should be monitored closely for these reactions and treated promptly if any occur. Adverse reactions may require interventions such as decreasing the dose of TREANDA, or withholding or delaying treatment. Myelosuppression is frequently severe and should be expected when treating patients with TREANDA.

TREANDA is contraindicated in patients with a known hypersensitivity to bendamustine or mannitol. Women should be advised to avoid becoming pregnant while using TREANDA.

The most common non-hematologic adverse reactions associated with TREANDA (frequency 15%) are nausea, fatigue, vomiting, diarrhea, pyrexia, constipation, anorexia, cough, headache, weight decreased, dyspnea, rash, and stomatitis. The most common hematologic abnormalities associated with TREANDA (frequency 15%) are lymphopenia, anemia, leukopenia, thrombocytopenia, and neutropenia.

FOR MORE INFORMATION VISIT WWW.TREANDA.COM.

Sponsored by Cephalon, Inc., the makers of TREANDA.