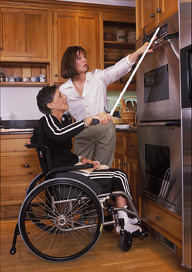 NewsUSA) – Home is where the heart is. Increasingly, the home is also where the healthcare is.

For various reasons, older people prefer to receive medical care at home, whether it be in their own home or their children's home. Census data show a 67 percent jump between 2000 and 2007 in the number of parents who have moved in with their adult children.

More than 8 million seniors and people with disabilities enjoy the benefits of medical care at home. Services and equipment that enable people to receive care at home include oxygen therapy, power wheelchairs, hospital beds and diabetic supplies. Congress and the White House will consider the value of homecare for patients and taxpayers as they explore avenues for healthcare reform.

Reforming healthcare, especially Medicare, is a top issue in Washington, D.C. Medicare provides health insurance to approximately 43 million Americans aged 65 and older, and to people with permanent disabilities. The spending of Medicare is projected to grow annually by 7.5 percent over the next decade. Medicare trustees project that Medicare's Trust Fund will be exhausted in 2019.

While total Medicare spending skyrockets, the portion devoted to home medical care and equipment remains less than 2 percent. At the same time, homecare holds down costs better than other healthcare segments. Two years of home oxygen therapy costs less than the average Medicare cost for a single day in the hospital, which is more than $5,500.

Providing care to seniors in their homes requires services. Homecare providers serve clients after hours and over weekends to ensure that their patients stay safe – and out of emergency rooms. Also, homecare providers help vulnerable seniors during emergencies such as ice storms and hurricanes.

As the President and Congress work toward solutions regarding the uninsured and the rising costs of care, the role of home medical care and equipment is likely to be considered as one of the key solutions that will help sustain Medicare and Medicaid.

Tyler J. Wilson, president of the American Association for Homecare, notes, "Homecare will continue to be safe and cost-effective only as long as policy-makers in Washington remember that homecare requires a human touch, including services and personal attention."

For more information on homecare and its services, visit www.aahomecare.org/athome.
This article is copyright free. You are free to use it on a blog, website, in a newspaper, or newsletter.
To re-post this, copy the content above, or HTML on the right, and paste onto your site.