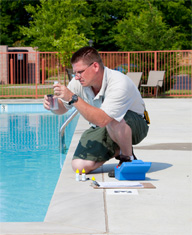 NewsUSA) – As much as you look forward to enjoying your pool this summer, you don't enjoy contemplating its upkeep. But spring is the perfect time to upgrade pool equipment to save money and energy during pool season.

Hayward Pool Products, a company that makes reliable, energy-efficient products designed to enhance the pool and backyard experience, offers the following tips:

* Get an energy audit and upgrade equipment accordingly. During spring inspection, schedule an energy audit to determine whether procedural changes or equipment upgrades can help you save money and energy in the upcoming months. For example, switching to a variable-speed pump can save up to 75 percent on your pool's energy costs, and switching to a robotic automatic pool cleaner can save up to 94 percent of the energy used by a pressure cleaner, while adding a heat pump will maintain constant comfort while saving up to 80 percent in energy costs versus gas heaters. Also, some areas offer rebates or incentives to those who switch to energy-efficient equipment.

* Make sure your pool equipment is working correctly. Pool-inspection procedures should always include maintenance checks like visually inspecting the pump, filter, heater, lights, automation equipment and chlorinator, and checking the operating pressure on the filter. Hayward always recommends that pool owners consult a professional. Paying for a pool inspection will cost less than trying to fix a major problem later in the season. Plus, professionals will be able to spot safety problems like missing or loose drain covers or electrical or gas issues, which an untrained eye might miss.

* Switch to salt. Salt chlorination produces water that is softer on the skin and gentler on the eyes than factory-produced chlorine. As chemical prices are on the rise, installing a salt chlorine generator, like Hayward's Aqua Rite Pro, will save you money in the long run. Salt-chlorinated pools regulate themselves, so you won't need to test your water as often or buy as many products to maintain the water.

For more information, visit www.haywardnet.com.
This article is copyright free. You are free to use it on a blog, website, in a newspaper, or newsletter.
To re-post this, copy the content above, or HTML on the right, and paste onto your site.