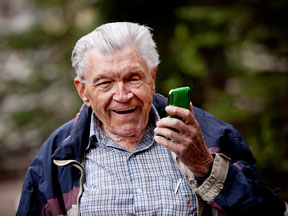 (NewsUSA) – Approximately 60 percent of adults aged 65 and older living alone or in care facilities receive no regular visitors, according to recent studies. Loneliness is a challenge for older adults, especially during the holidays. Some may have no close relatives; others may have family members and friends too far away to visit regularly.
A daily weekday phone check-in service provides peace of mind to family and friends of older adults living alone. The Always in Touch program, offered free from Always Best Care Senior Services, is designed mainly for seniors or disabled adults who are homebound, isolated, living alone or in need of daily contact. It can be temporary for someone recuperating from an illness or surgery, or it may be a more permanent situation, according to Always Best Care.
Here's how it works: Representatives of Always in Touch call each day and allow the phone to ring up to 15 times. If no one answers, they will call again 15 minutes later. If there's still no answer, the representative will try to reach the individual's designated emergency contacts.
"This unique program allows us to give back to our communities in a very meaningful way," says Michael Newman, Founder and Chief Executive Officer of Always Best Care.
Friends and family members who do live near elderly relatives living alone also can help address holiday loneliness by assisting with opening and reading holiday cards, arranging for visits from a representative of a local church, decorating the home, or organizing a party at a senior facility.
Loneliness often leads to depression if ignored. Signs of depression in seniors include loss of appetite, loss of interest in activities or socializing, and problems sleeping. Regular phone calls when family members are distant, as well as when they live nearby, are an important way to combat depression by making older adults feel loved and cared for.
Always in Touch is not a substitute for professional medical advice or services, and the company reminds individuals and caregivers to call a personal physician or 911 immediately if help is needed. To sign up for the Always in Touch program, contact a representative from Always Best Care by calling 855-710-2255. For more information about Always Best Care services, visit www.always-in-touch.com.
This article is copyright free. You are free to use it on a blog, website, in a newspaper, or newsletter.
To re-post this, copy the content above, or HTML on the right, and paste onto your site.