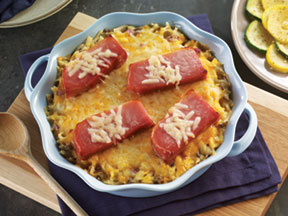 (NewsUSA) – It's the inevitable question we're asked by our families and ourselves: "What's for dinner?"
Unfortunately for most, busy schedules make answering this question harder than it needs to be. That's why Cook's Ham, a top brand of ham in the U.S., developed Cook's Everyday Cuts — great tasting smaller portion ham options that are perfect for effortless weeknight dinners that your whole family will enjoy. Cook's knows that today's hectic lifestyles call for fast, flavorful and affordable meal solutions. And because everyone likes a little change of pace, Everyday Cuts comes in a variety of options, including Ham Chops and Ham Medallions.
Whether it's seasoned or glazed, straight from the package, warmed in the oven, microwaved or grilled, Everyday Cuts will help you have delicious meals on the table faster than you can say "who's hungry?!" Everyday Cuts can be enjoyed on their own with your favorite side dish or as an ingredient in your favorite recipes.
For starters, try Ham Chops and Scalloped Potatoes for your next dinner and watch your family's delight grow with every forkful.
HAM CHOPS AND SCALLOPED POTATOES
1 package (12 ounces) Cook's Everyday Cuts Ham Chops
4 cups frozen shredded hash brown potatoes
1 can (10 3/4 ounces) condensed cream of mushroom soup
2 tablespoons finely chopped red onion
1 cup (4 ounces) shredded cheddar cheese
1/2 cup (2 ounces) shredded Swiss cheese
Preparation:
Heat oven to 375 degrees F. Combine hash browns, soup and onion in greased 9x9x2-inch baking dish.
Sprinkle top with cheddar cheese. Arrange ham chops on top of cheese in a single layer.
Cover and bake at 375 degrees F for 30 minutes. Remove cover, sprinkle Swiss cheese over chops. Return to oven for an additional 15 minutes.
Cook's Everyday Cuts ham chops, medallions and steaks always make for a great dinner dish that's convenient to serve the whole family. Add fruit, veggies, potatoes or bread, and a well-rounded meal is ready. Best of all, everyone will think you spent hours whipping it up.
This article is copyright free. You are free to use it on a blog, website, in a newspaper, or newsletter.
To re-post this, copy the content above, or HTML on the right, and paste onto your site.