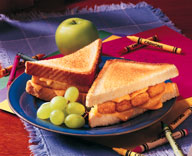 NewsUSA) – Seafood is a smart choice for moms who want their kids to have a lifetime of good health. Speaking of smart, experts agree that seafood is an important part of healthy brain development, so much, in fact, that it's often referred to as "brain food."

Fish are the best natural source of healthy omega-3's, fats that are absolutely essential for developing the connections that support memory, judgment, and other important brain activities. Some studies show that eating fish and seafood, especially varieties rich in omega-3's, promotes heart health and may lower the risk of many chronic diseases later in life.

Mom's Tacklebox

For moms looking for a healthier option than the standard hot dogs and chicken nuggets, seafood is a convenient way for them to feel good about serving kids a meal that is chock full of important nutrients, like healthy omega-3's, with minimal fuss.

Registered dietitian Julie Upton urges moms to introduce their kids to seafood at an early age. "The earlier they start eating it, the more apt they are to like it, and the sooner they'll benefit from all the important nutrients seafood provides," says Julie. She also recommends these tips for moms looking for healthy meal ideas:

– Kids love to dip: Fish sticks and fish tenders are perfect for small hands and dipping. They are a great way to introduce seafood to little eaters. Try different dips like applesauce, or add some honey to ketchup to sweeten things up.

– Fish Fridays: A Friday night family dinner is a great time to introduce different types of seafood to your picky eaters. For instance, Gorton's offers Potato Crunch Fillets, Popcorn Shrimp or All-Natural Grilled Fillets, so there is always something for everyone in the family.

– Need a recipe? Substitute fish sticks for an interesting twist on an ordinary dinner by trying Fish Stick Enchiladas or Fish Stick and Cheese Grilled Sandwiches. Go to www.gortons.com/recipes.htm for more great kid-friendly recipes.

At the end of the day, pleasing everyone at dinnertime can be a challenge, but the variety and convenience of seafood brands like Gorton's makes it easier for moms to serve a well-balanced, homemade meal that their kids will love. Busy moms looking for no-fuss and nutritious meal-time solutions can sign up for Gorton's e-newsletter at www.gortons.com to have new recipes, healthy eating tips and product coupons delivered right to their inbox.
This article is copyright free. You are free to use it on a blog, website, in a newspaper, or newsletter.
To re-post this, copy the content above, or HTML on the right, and paste onto your site.