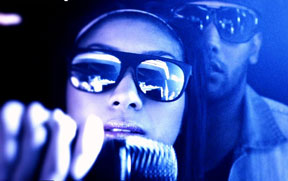 (NewsUSA) – Big Jake Music believes it has seen the future of the industry, and it comes in a unique package named Abie Flinstone — a 19-year-old wunderkind from Europe who is currently making headlines with her distinct sound.
The New York-based indie music label recently signed Flinstone and has high hopes for the rising hip-hop and R&B star.
"Right now is the most exciting time ever for new labels and new artists," said Jake Shapiro, founder of Big Jake Music. "We have every confidence that Abie has the ability and makings to be a musical force to be reckoned with," he added.
Flinstone, who originally hails from Southern Davao in the Philippines — she gives a shout-out to her country in a song titled "Love You Like Davao" — now calls Lommel, Belgium, home. It's there that she writes and records songs such as "Have Dat" and "Aye."
After sending a demo to Absolute P Entertainment (Mostiko Records) late last year, Flinstone took the underground and club scene by storm with "Get Outta My Way," a single featuring Kaliq Scott.
With a 90s feel to her lyrics, but with a millenium twist, Big Jake Music thinks their new hip-hop artist is in a category all her own.
"In an industry that can make or break you," Shapiro said, "Abie has the potential and credentials to go far."
Even as the music industry grapples with less-than-stellar CD sales, indie labels are finding success by being choosier about whom they sign and more cost-conscious in their marketing and promoting strategies.
By controlling costs and targeting marketing, indie labels are able to give their artists the attention that larger labels cannot provide — a creative, nurturing environment and the opportunity to be a very big fish in a much smaller pond.
Having recently been acquired by Seven Arts Entertainment Inc. (NASDAQ: SAPX), the indie music label now believes it has the backing and the ability to focus on up-and-coming artists like Flinstone.
For more info on Flinstone or Big Jake Music, visit www.bigjakemusic.com or www.7artspictures.com.
This article is copyright free. You are free to use it on a blog, website, in a newspaper, or newsletter.
To re-post this, copy the content above, or HTML on the right, and paste onto your site.