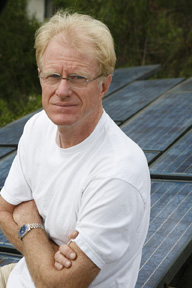 NewsUSA) – When it comes to the green movement, Hollywood has been moving ahead of mainstream America. Take Ed Begley, Jr., a character actor known for roles in "A Mighty Wind" and "Batman Forever." Begley embraced environmentalism back in 1970, even riding his bike to red carpet events.

Today, Begley lends his name to "Begley's Best," a line of all natural, nontoxic household cleaners. He recently published a book about green living, "Living Like Ed: A Guide to Eco-Friendly Life."

When it comes to the green movement, Begley's home is surely where his heart is. The 1936 home now features a wind turbine and 6 kilowatts of solar panels — Begley pays only $300 a year in electric bills.

Fitting a house with a wind turbine might seem extravagant to most Americans, but that doesn't mean that you need celebrity status to conserve energy and resources at home.

Here are some tips for Americans hoping to live more sustainably:

– Watch your water use. Taking simple steps, like only running your dishwasher or laundry machine when you have full loads, can save thousands of gallons of water each year. Take showers instead of baths, and when you need to replace kitchen or bathroom fixtures, choose high-efficiency appliances. Monitor your water bill for unusually high prices — they might indicate leaks.

– Consider buying a high-efficiency water heater. Heating water can use up to 25 percent of a home's energy supply. If it's time for a new model, look for one that qualifies for the federal tax credit for energy-efficiency improvements, like A.O. Smith's Vertex model. Begley uses the Vertex in his home to provide all of this home heating and hot water needs.

– Upgrade your lighting. If every American home replaced just one lightbulb with an ENERGY STAR compact fluorescent light (CFL), it would save enough energy to light more than 3 million homes for a year and prevent greenhouse gases equivalent to the emissions of more than 800,000 cars for a year. Better yet, CFLs are inexpensive and easily installed.
This article is copyright free. You are free to use it on a blog, website, in a newspaper, or newsletter.
To re-post this, copy the content above, or HTML on the right, and paste onto your site.