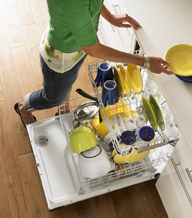 NewsUSA) – Every penny counts, especially in tough times. So hearing, "You've got to spend money to save money" may seem counterintuitive as people tighten their belts. But simple and inexpensive things can be done around the house to ensure you save energy and money.

Start with your appliances. They total the majority of your household's energy consumption. In a recent survey conducted by Harris Interactive for Whirlpool Corporation, 84 percent of consumers surveyed stated energy as the most important attribute with regard to appliance efficiency.

Look for the ENERGY STAR label on appliances to help save money on utility bills. According to the Environmental Protection Agency, if all U.S. households installed water-efficient appliances, the country would save more than 3 trillion gallons of water and more than $18 billion per year.

"People may be surprised at the affordability of ENERGY STAR qualified appliances," said Mary Zeitler, consumer scientist, Whirlpool Institute of Fabric Science. "The ENERGY STAR-qualified Whirlpool Classic is a top-load washing machine that pays for itself in water and energy savings in less than five years."

As you ready your home for energy efficiency, consider the following tips from the Department of Energy:

– Replacing single-pane windows with new ENERGY STAR windows could save $126 to $465 in annual energy bills, depending on your climate zone. If you aren't ready to replace them, caulk the window seals around the glass for better insulation.

– Properly sealing and insulating your attic can save 10 percent annually in energy bills.

– Weather-stripping the seams around your house provides better insulation; keeping cool air in will help reduce electricity bills during the summer.

"Saving money doesn't mean abandoning convenience," said Marilyn Strefling, senior consumer scientist, Whirlpool Corporation. "By scraping dishes into your compost or disposal and not rinsing them before loading into an ENERGY STAR-qualified dishwasher, you can save up to 20 gallons in water, which translates into considerable savings for the environment and extra money in your pocket."

While doing household tasks, remember the following:

– Drying a few loads of laundry in succession takes advantage of leftover heat in the dryer.

– To make your wardrobe last, carefully read fabric-care labels to ensure that clothes are properly cleaned.

– Using a coil-cleaning brush and vacuuming underneath the refrigerator increases efficiency.

For additional efficiency tips, visit www.instituteoffabricscience.com.
This article is copyright free. You are free to use it on a blog, website, in a newspaper, or newsletter.
To re-post this, copy the content above, or HTML on the right, and paste onto your site.