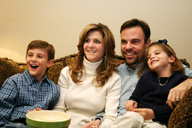 NewsUSA) – It's official…the countdown through the holiday season has begun. We're crossing off the days until malls are adorned with lush, green holly and glimmering lights, "White Christmas" plays repeatedly over the loudspeaker in department stores overflowing with merchandise, and children's faces light up with joy as they spot Santa on the pavilion intently listening to wish lists.

But with dwindling finances and a troubled economy on many minds, saving money is sounding much better than giving it. With exchanging gifts on the back burner this year, simpler family traditions can help keep the warmth of the season alive.

American families can gather for holiday dinners, whether they're eating pizza on paper plates or turkey on precious antique china. They can form coalitions to feed the homeless in soup kitchens on cold winter nights, and can even gather in the living room for a cozy night of one of the most popular pastimes -; watching favorite seasonal television specials.

According to Nielsen Media Research, "A Charlie Brown Christmas" is one of the most-watched television shows of the holiday season, bringing in 13.75 million viewers in one prime-time showing in 2007. Other favorites include: "Rudolph the Red-Nosed Reindeer" and "How the Grinch Stole Christmas." But there's one genre of television that offers entertainment with a bit of historic nostalgia: those memory-jolting end-of-the-year countdowns.

Multiple broadcast television outlets have been known to host end-of-the-year countdowns that highlight the year's history through one or many angles. For example: the most popular sports events, celebrity shock moments, game show wins, fashion flops and music. Every year, Great American Country (GAC) broadcasts its "Top 50 Videos" special, showcasing the most popular country music videos of the year.

Once again bringing entertainment to your living room, GAC will air "Top 50 Videos of 2008," every night beginning Dec. 29 through Jan. 2 at 8 p.m. ET. This year's countdown will be hosted by Taylor Swift and will highlight the year's most popular music videos in country music. Country music fans can vote for their favorite videos and find more information on the countdown at www.gactv.com.

Through participating in simple pastimes such as watching special television countdowns with family, people throughout the nation can build memories to last a lifetime, without over-extending economy-stricken budgets. The season's most important message -; that of sharing love and lending a helping hand -; will undoubtedly be heard loud and clear as the days until 2009 continue to pass by, and citizens look past traditional gift-giving into what the holidays are truly all about.
This article is copyright free. You are free to use it on a blog, website, in a newspaper, or newsletter.
To re-post this, copy the content above, or HTML on the right, and paste onto your site.