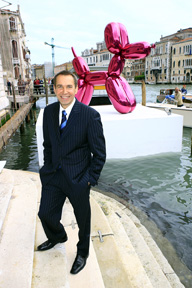 (NewsUSA) – The winter holidays are all about giving — giving thanks, giving gifts, giving to charity. In the past, you might have given your mother a bracelet and made a donation. Today, the line between purchasing a gift for a loved one and helping someone in need has merged.
Some people make donations to a favorite charity in a loved one's name. Others purchase gifts that donate part of their proceeds to a worthy organization. Now, the skin care company Kiehl's is collaborating with Jeff Koons to benefit The Koons Family Institute, an initiative of the International Centre for Missing and Exploited Children (ICMEC).
The Koons Family Institute was created by Jeff Koons, an internationally recognized artist best known for iconic sculptures such as 1986's "Rabbit" and 1992's "Puppy." Koons is less well known as the father of an abducted child. Koons has fought for custody of his son on two continents without success. This experience had made him a fervent advocate for protecting children.
Koons has partnered with Kiehl's to raise awareness and funds for child protection through the sale of the Limited Edition Creme de Corps Holiday Collection, which contains four products. Each product in the collection features the artwork of "TULIPS," a Koons painting from his Celebration Series.
One hundred percent of Kiehl's Worldwide Net Profits up to $200,000 will benefit The Koons Family Institute and ICMEC. Gift recipients will enjoy the skin-softening products in the Creme de Corps Holiday Collection as well as knowing that their gift raised money to help children.
The Creme de Corps Holiday Collection features three sizes of Kiehl's Creme de Corps body moisturizer as well as a new product: Kiehl's Creme de Corps Soy Milk & Honey Whipped Body Butter. The rich, air-whipped butter delivers rich hydration for up to 24 hours with skin-soothing ingredients like shea butter, beta carotene, vitamin E and squalane — a highly refined moisturizing oil derived from the olive.
For more information, visit www.kiehls.com.
This article is copyright free. You are free to use it on a blog, website, in a newspaper, or newsletter.
To re-post this, copy the content above, or HTML on the right, and paste onto your site.