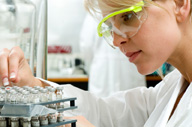 NewsUSA) – With well over 100 projects in research and over 60 NMEs (New Molecular Entities) in development, Roche's new product pipeline is among the best in the pharmaceuticals industry. Roche invests almost $9 billion a year in research and has nine pharmaceutical research centers located on three continents. Because of current expansion, Roche's Nutley, N.J. site will become the company's second largest global research center.

"Roche Nutley is a science-centered organization which encourages innovation and entrepreneurship and is experiencing growth in these tumultuous times," said Marcia Geremakis, director, human resources for Roche Pharma Research in Nutley, N.J.

Roche is expanding its research facility in Nutley with a major focus in inflammation, oncology, metabolic disease and RNAi therapeutics. It plans to continue to staff the Nutley facility with world-class scientists. Roche and Genentech are currently integrating their U.S. operations, which presents an opportunity for scientists to join the company at the start of a new chapter for Roche. In addition, many scientists working on inflammation drugs are moving to Nutley from the site in Palo Alto, Calif. and Roche will be adding over 120 new positions in the next year — approximately 50 in inflammation.

Roche Pharma Research in Nutley has a tradition of developing innovative new medicines. Research activities are focused on creating clinically differentiated medicines based on small molecules (chemical compounds) and therapeutic proteins (mainly monoclonal antibodies and peptides), including glycoengineering and next-generation biologics. In addition, Roche is now exploring small interfering ribonucleic acid molecules (also known as RNA interference, or RNAi), a promising approach based on the concept of targeted gene silencing (turning genes on or off) that is hoped will eventually yield powerful new therapeutic options.

Roche's strong funding, increased investment in R&D and entrepreneurial, creative environment make the company an ideal organization where scientists can devote much of their time to science and see their work make a difference in patients' lives.

During the past decade, Roche has been recognized as a great place to work by several publications, including FORTUNE and Science magazines. The company was also listed as one of AARP's Top Companies for Workers Over 50.

For more information on careers at Roche, visit http://careers.roche.com/.
This article is copyright free. You are free to use it on a blog, website, in a newspaper, or newsletter.
To re-post this, copy the content above, or HTML on the right, and paste onto your site.