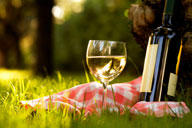 NewsUSA) – "Sustainability" is a popular term when it comes to being eco-friendly, but what does it really mean? For California's vintners and winegrape growers, who subscribe to California's Sustainable Winegrowing Program, it's very clear.

"Sustainable practices include the way we preserve and protect the land, water and air, and how we responsibly interact with employees and local communities," says Kim Ledbetter-Bronson, Chairwoman of the California Association of Winegrape Growers.

Specifically, California vintners and winegrape growers are adopting the following practices in their vineyards and wineries:

* Using alternative energy sources. Growers and vintners use solar and wind power, and biodegradable fuel produced from vegetable oils and animal fats.

* Using sheep, goats, chickens, falcons, owls, dogs, beneficial insects and other creatures to provide a low-impact, natural cultivation method and to manage pests.

* Using "green" building materials such as straw bales, rammed earth, earthen plaster and recycled lumber in winery construction.

* Preserving wildlife habitats and creating nest boxes for owls, raptors and other beneficial birds when designing vineyards.

* Using cover crops and compost to prevent erosion, attract helpful insects that prey on pests and enrich healthy soils.

* Being a good neighbor and giving back to the community.

* Adopting winery and vineyard water conservation practices.

The good news for consumers: The increased attention to detail that these sustainable practices require results in higher-quality wines.

"California wine is ahead of the curve in adopting sound environmental practices, and we will continue to lead in sustainable wine growing," says Robert P. Koch, president and CEO of the Wine Institute.

For more information, visit www.wineinstitute.org, www.cawg.org or www.sustainablewinegrowing.org.
This article is copyright free. You are free to use it on a blog, website, in a newspaper, or newsletter.
To re-post this, copy the content above, or HTML on the right, and paste onto your site.