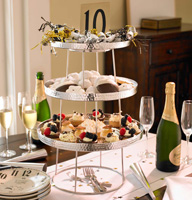 NewsUSA) – Look at your holiday calendar, and you'll likely see a tight schedule of mixers, parties, cookie exchanges and other holiday events. And it's the same way for your friends and family members, making it difficult to get everyone together for the holiday party you want to host.

The solution? Instead of throwing a party with set hours, which will run into conflict with prior obligations, consider holding a holiday open house — a party that runs all day, allowing guests to arrive at their leisure.

A holiday open house also puts less stress on the hosts. With a little decorating, holiday libations and some simple snacks, you can easily plan an all-day get-together that allows you to mix and mingle, rather than watch the oven or shake cocktails.

Not sure where to start?

Pottery Barn offers the following tips to help you plan a successful holiday open house:

– Create a festive mood. Get your guests into the holiday spirit before they even enter your home by lining your walkway with Arches lanterns and pillar candles and hanging a wreath on your door. You can also decorate trees and shrubs with lights.

Use candles to infuse your home with warmth and light. Wrap garlands around banisters, and drape them over doorways.

– Set up a buffet. Use your dining table to present an array of delectables that do well at room temperature. A cheese board, for example, along with Marcona almonds, dried figs and sliced baguette, looks elegant without requiring anything more than the occasional refill.

– Create a bar. Pottery Barn portable Modine Bar lets you set up drinks anywhere in your home. Keep ice on hand for cold drinks and an electric kettle for hot ones. Select two or three drinks, and print out the recipes on cards, so guests can mix their own cocktails.

– Provide entertainment. No matter what time guests arrive, make them feel like they've experienced the best of the party by focusing the merriment on a few activities. For example, invite guests to bring a toy to donate to a local organization, and put all of the toys on one table, so guests can see the pile grow. Set up a craft table for children, giving them supplies to make paper snowflakes, simple tree decorations and homemade wrapping paper. And before the fun is over, hand out party favors, like ornaments, that your guests can take home.

For more entertaining ideas, visit www.potterybarn.com/stylehouse.
This article is copyright free. You are free to use it on a blog, website, in a newspaper, or newsletter.
To re-post this, copy the content above, or HTML on the right, and paste onto your site.