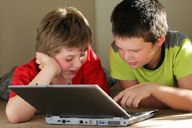 NewsUSA) – Recent piracy lawsuits brought by the Recording Industry Association of America (RIAA) have parents and youths concerned about the risks and ethics of downloading copyrighted songs and videos. But piracy charges are just one of many dangers kids face when they download files illegally.

Downloading files or software can make computers vulnerable to harmful programs, like viruses and spyware. File sharing can allow other Internet users access to all of the files on your computer, which means that information, like bank details and personal documents, can be stolen. Peer-to-peer, or P2P, sites are notorious for lacing any downloadable files with sexually graphic or violent content.

To help parents protect their families and computers, a non-profit organization, iKeepSafe.org, has developed resources to teach kids the safe and ethical use of the Internet and how to download safely. Before downloading, kids should understand the "3 KEEPs" for safe and honest downloading:

1. Keep safe your personal files. Don't share your music, videos, games, or pictures -; especially pictures of yourself -; with strangers online.

2. Keep away from doubtful downloads. Files from peer-to-peer sites, social networking sites, or blogs of people you don't know could have bad files attached to them.

3. Keep using common sense. If it's not free in stores, it shouldn't be free online -; that's stealing from the creators, and it's against the law.

A new children's book and animated DVD, "Faux Paw and the Dangerous Download," teach kids in a fun, non-threatening way the safe and ethical use of downloading. To further promote safety, parents can explain that file-sharing and illegal downloading of copyrighted materials is viewed as theft and can expose both you and them to legal action.

Parents should also check their computer's browser history regularly -; evidence of P2P sites such as BitTorrent, Limewire, Joost, ANts, Gnutella, eDonkey or new icons and software on your desktop suggest illegal activity. Parents can also find suitable download sites for kids that are legal and free.

To preview the Faux Paw films and parent tutorials, and to find more information on critical Internet safety topics, visit www.iKeepSafe.org.
This article is copyright free. You are free to use it on a blog, website, in a newspaper, or newsletter.
To re-post this, copy the content above, or HTML on the right, and paste onto your site.