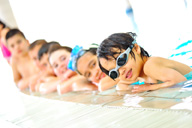 (NewsUSA) – In December 2007, Congress and President Bush passed the Virginia Graeme Baker Pool & Spa Safety Act (VGB). Inspired by the tragic drowning of a seven-year-old girl, the law required all public spas and pools to install VGB-compliant drain covers, properly separated or unblockable drains or anti-entrapment systems such as a Safety Vacuum Release System (SVRS) — by December 19, 2008.
Today, in 2011, many public pools still do not meet the law's requirements.
"We know that, due to economic cutbacks, this is a difficult time for many public swimming pool operations," said Kevin Potucek, Hayward vice president of product management. "There are many facilities serving under-privileged children, senior citizens, physically or mentally disabled citizens or other worthy causes. For whatever reason, they are not yet compliant and are at risk of not opening this spring."
There are resources for non-compliant pools and spas whose budgets do not allow them to make the required changes. For example, Hayward Pool Products, the largest manufacturer of residential swimming pool equipment in the world, created its "Safe Swimming Initiative" to aid public pools serving the communities that are facing compliance challenges with VGB due to budgetary issues.
The initiative will run through July 1 or until $1 million in Hayward Stratum VRS products have been been given to public pools in need. Hayward will refer facility operators to registered installers.
To submit a request for consideration in Hayward's Safe Swimming Initiative, go to www.haywardpool.com and click on the "Hayward Pledges up to $1 Million for Pool Safety" button. Products will be awarded with special consideration for public or non-profit facilities serving populations that are under-privileged or have special needs.
This article is copyright free. You are free to use it on a blog, website, in a newspaper, or newsletter.
To re-post this, copy the content above, or HTML on the right, and paste onto your site.