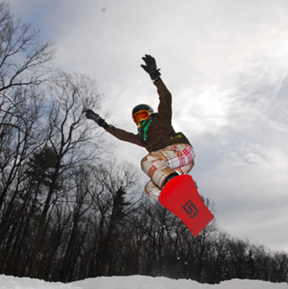 (NewsUSA) – Valley Forge and Montgomery County, Pa., were the site of, arguably, the most famous winter in history, when the Continental Army hunkered down amid harsh conditions, limited supplies and low morale.
Fortunately, things have perked up a lot since then. Today, when the cold and snow weather sets in, the area comes alive with a variety of outdoor activities that ensure not only rosy cheeks but plenty of memories built with family and friends.
Downhill skiers flock to Spring Mountain Adventures, Schwenksville, which offers top-notch schussing within a commute that takes a matter of minutes, not hours. The 535-foot mountain hosts skiing, snowboarding and tubing, down nine trails serviced by six lifts. A full array of lessons is available, catering to all levels of expertise. Apres ski options include a lodge where adventurers can ease their tired muscles while enjoying a fresh slice of pizza in front of a roaring fireplace. To kick up the luxury a notch, the nearby Woodside Lodge offers overnights in a plush B&B setting that reflects its 1920s past.
For cross-country fans who crave the extra cardio, the 28 trail miles at Valley Forge National Historical Park provide an excellent workout against the backdrop of history. Gliding by the recreated huts of the Muhlenberg Brigade — the outermost Revolutionary War defense against a possible British attack from the east — skiers can almost still hear the murmur of camp life and the crackle of fire pits. Continuing along that same path leads to the National Memorial Arch, a stunning sight when, from a carpet of snow, it soars upward toward a crystal blue winter sky.
Skaters have numerous indoor options in the area, including Center Ice, Oaks, and Wintersport Ice Arena, Willow Grove. Both offer private lessons to cover skating basics for all levels, as well as ice hockey leagues that high-speed competitors will surely want to "check" out. Friday nights at both rinks feature DJs and a party atmosphere.
Easing the pace significantly is the quiet solitude of ice fishing at Green Lane Park. When temperatures plummet, its three lakes quieten to a still glaze. Armed with an ice auger, camp stool, rod and lures, anglers make their way onto the frozen surface, set up and enjoy the pursuit of a wintry catch. Or the chance to relax and take in the spectacular snowy landscape.
Information on additional "cool" activities and warm options for accommodations is available online from the Valley Forge Convention and Visitors Bureau.
This article is copyright free. You are free to use it on a blog, website, in a newspaper, or newsletter.
To re-post this, copy the content above, or HTML on the right, and paste onto your site.