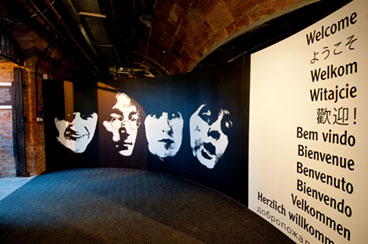 (NewsUSA) – There've been a lot of hard day's nights since 73 million Americans tuned in to "The Ed Sullivan Show" in 1964 to watch the Beatles forever change rock 'n' roll. If you were one of them — or maybe just fascinated by why teenage girls spent so many hours debating whether Paul or John was cuter — get ready for what may be the perfect vacation idea.
We're talking CIE Tours' "Icons of Britain." And while it's definitely not All Beatles, All The Time — check out the other must-sees in London, Scotland and Wales — clearly a big draw is recapturing what's described as "the fevered feel of the early '60s in Liverpool" where the Fab Four got their start.
Here's some of what you'll see:
* The Beatles' Boyhood Homes. It's easy to imagine the teenaged Paul and John writing the lyrics to "I Saw Her Standing There" in the living room of the future Sir Paul McCartney's humble 20 Forthlin Road house. As McCartney recalled: "I'd start off with 'She was just 17, she'd never been a beauty queen.' And he'd be like, 'Oh no, that's useless.'"
* The Cavern Club. Still a live-music venue that's especially packed when a tribute band dons mop-tops and "yeah, yeahs" their hearts out, the club hosted the Beatles 292 times. The 293rd time, promised by manager Brian Epstein shortly before the group flew off to America, never happened.
* Jaw-Dropping Castles. Not only will you get a peak inside The Queen's official residence, Windsor Castle — and your local tour guide will surely have lots to share about goings-on there — but a rip-roaring evening banquet at Cardiff Castle will explain what's meant by "Welsh hospitality."
* The Beatles Story. This state-of-the-art attraction in the heart of Liverpool's revitalized wharf district includes a behind-the-scenes look at the famous Abbey Road Studios, an underwater trip on the Yellow Submarine and a "Fab 4D" extravaganza that uses the latest technology to bring the group's music to life.
* A Taste of Scotland. Specifically, a dinner of Scottish specialties — including, yes, the famous haggis — and a lively show with songs, stories and a display of traditional step dancing.
If You Go: The respected CIE Tours has escorted millions of Americans on motorcoach tours of Ireland, Scotland, England and Wales for more than 81 years. For more info on the fully inclusive "Icons of Britain" package, contact your travel agent, or call CIE at 1-800-243-8687 or visit www.cietours.com.
This article is copyright free. You are free to use it on a blog, website, in a newspaper, or newsletter.
To re-post this, copy the content above, or HTML on the right, and paste onto your site.