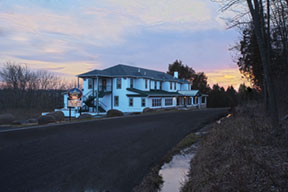 (NewsUSA) – The most well-known accommodations in Valley Forge and Montgomery County, Pa., from the standpoint of history, are probably the tents and huts that housed the Continental Army in the winter of 1777-1778.
Fortunately, the area has come a long way since then.
The backstory at The Woodside Lodge at Spring Mountain, Schwenksville, Pa., combines equal dashes of history and family ties. The original inn was built in the 1920s and was resurrected by an enterprising couple, Rick and Gayle Buckman, with a connection to the site: Rick's father was once a busboy there. After an extensive renovation, it reopened in February 2012 as a nine-room oasis. The original appointments were retained — such as those lovely glass doorknobs — but modern amenities abound.
The John Kindig House Bed & Breakfast, Hatfield, Pa., maintains its 1864 roots through the plaster-over-clapboard construction of the original farmhouse. Inside, the rooms are tastefully decorated with a blend of reproduction and antique furnishings and original artwork. Unique for this type of property, the B&B features an outdoor swimming pool.
The Morgan Hughes Homestead, Lansdale, Pa., is at the crossroads for the origins of several famous American families: the Morgans (of J.P. Morgan fame) and the Hughes and Boone families (of Daniel Boone fame). Manor House rooms have queen-sized beds, full private baths and cathedral ceilings. The smokehouse and walk-in fireplaces are all original and maintain their hardware. Many of the doors and "six-over-nine" windows contain original, handmade glass.
Wayne Bed & Breakfast Inn, Wayne, Pa., offers a different look and feel to the other area B&Bs: one of Victorian opulence, but not so formal that visitors can't take a dip in the outdoor pool. Built in 1890, the innkeepers (Traudi and Bob Thomason) retain a slice of their cultural background as they welcome guests with a hearty, "Hier, wird Deutsch gesprochen" ("Here, German was spoken").
Information on any of the accommodations throughout Montgomery County, Pa., including these B&B getaways, is available from the Valley Forge Convention and Visitors Bureau at www.valleyforge.org.
This article is copyright free. You are free to use it on a blog, website, in a newspaper, or newsletter.
To re-post this, copy the content above, or HTML on the right, and paste onto your site.