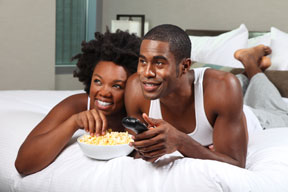 (NewsUSA) – Digital distribution revolutionized the music industry to such an extent that it's still reeling from the transformative power of mass downloading. As the music industry adjusts to the rocking changes of the digital wave, the film industry is going through its own set of uncharted waters.
Though not without hiccups, digital distribution met widespread success in the music industry. The digital revolution, however, has now shifted focus to the film industry with the dawn of Netflix, digital streaming and video-on-demand.
"There's never been a better time to be in the movie industry," says Peter Hoffman, CEO of Seven Arts Pictures. "Large studios are relying on big-budget pictures like 3D titles, but that opens up space for independent studios to work on small-budget films and capitalize on digital distribution."
Seven Arts embraced the opportunity afforded by digital distribution and staged a digital release for their most recent comedy, "The Pool Boys." A digital release via on-demand took place just days after the theatrical release. Seven Arts recognized the profitability of electronic delivery and the home-video market.
According to the annual Global Entertainment and Media Outlook report, North America expected to $12.2 billion in box office revenue but $27.9 billion in home-video profits in 2011.
The home-video market is growing in significance as Blu-ray discs become increasingly popular, ticket prices continue to rise and electronic movie delivery transforms distribution. The Entertainment and Media Outlook estimates an 13.8 percent annual profit growth for electronic delivery.
"We're seeing significant market opportunity due to the cutback by major studios on producing small-budget films and the proliferation of digital distribution alternatives," says Hoffman.
Digital distribution made CD's practically obsolete, yet a new world of music was born with iTunes, Pandora and Spotify. Who knows what changes the digital revolution shall yield for the film industry? For more information on the changing movie industry, go to www.7artspictures.com.
This article is copyright free. You are free to use it on a blog, website, in a newspaper, or newsletter.
To re-post this, copy the content above, or HTML on the right, and paste onto your site.