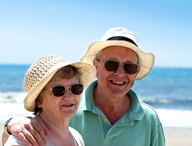 NewsUSA) – Advanced planning for traveling with medications can prevent consumers from spending their precious vacation time at the pharmacy counter or on the phone with their doctor.

One of the most common mistakes occurs when consumers take a full supply of medications on vacation and then lose them, says Mark Brueckl, the Academy of Managed Care Pharmacy's assistant director of pharmacy affairs. He recommends taking just enough for the length of your trip, plus one or two days extra.

In the fun of the moment, vacationers also may forget proper storage methods for their medications, Brueckl notes. Consumers must check to see if any of their prescriptions are sensitive to heat, sun or moisture. Medicines should not be exposed to levels of high heat, such as being stored in a car's trunk or glove compartment, or brought to the beach.

Another common mistake involves waiting until the last day to get prescriptions refilled. Consumers may encounter a pharmacy not having the drug in stock, Brueckl says.

Other suggestions for traveling with drugs:

* Pack medications in your carry-on luggage. If your luggage is lost or delayed, you will not miss any dosages if they're kept with you.

* Photocopy important documents and/or cards in case your wallet is lost or stolen, or if something happens to your luggage. Put a copy of each document in every piece of luggage and carry-on item.

* Ask your doctor for a letter outlining your health conditions and prescriptions, including the dosages and scientific names of all medicines you're taking. Keep this information handy in case you get stopped internationally by customs or need to obtain mediations abroad due to an emergency or lost luggage.

* Call the consulate of the country you're visiting and ask if there are any restrictions on bringing medications in to the country (www.usembassy.gov).

* Important items to pack: first aid kit, health insurance and prescription cards, medical summary, supply of medicines in original pharmacy bottles, medicines for common travel issues (pain, antacid, laxative, diarrhea medicine, antihistamine, cough medicine, motion sickness medicine), sunscreen, lip balm and insect repellant, bracelet for life-threatening allergies.

The Academy of Managed Care Pharmacy is a national professional association of pharmacists and other health care practitioners who serve society by using sound medication-management principles and strategies to improve health care for all. For more information about AMCP, visit the Web site at www.amcp.org.
This article is copyright free. You are free to use it on a blog, website, in a newspaper, or newsletter.
To re-post this, copy the content above, or HTML on the right, and paste onto your site.