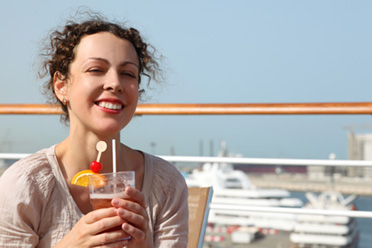 (NewsUSA) – Sometimes, you just need to get away — right now. While some vacations take months of planning, others are spontaneous affairs that only require snap decisions and the ability to stretch a dollar.Given the price of plane tickets and prime hotels, it's easy to feel limited when planning last-minute vacations. However, certain cruises can present a shockingly affordable travel option. Consider setting your sights on the Caribbean, the Bahamas or maybe the Mediterranean — either way, there's a strong possibility that you can find cheap cruise deals.Many travelers — even the savvy ones — don't know about this travel secret, that it's entirely possible to book a truly amazing cruise at an affordable rate. But that's because they're not privy to the inner workings of cruise lines. When cruise ships need to fill vacancies quickly, they often broker deals with vendors to cut prices and offer epic deals. For instance, with Vacations To Go, you can book a last-minute cruise and save up to 80 percent off the regular price.VacationsToGo.com lists over 25,000 cruises on its site so customers can find everything in one spot, which saves time spent on searching and planning when that travel bug bites.If you're planning a last-minute cruise, read on to see some of the ways Vacation To Go can help get you out of the office and sunbathing on the beach, climbing a mountain or relaxing in a Parisian cafe.* The company's world-famous 90-Day Ticker compiles all the best markdowns on cruises departing in the next 90 days.* The advanced cruise search technology helps users easily find the ideal cruise without wading through a sea of options they're not interested in.* The company negotiates special rates for groups like military personnel, interline employees and travelers age 55 and up.* VacationsToGo.com is updated daily with new markdowns that cruise lines make available to help fill cabins.* Users can register online for free access to all these deals. Plus, with each registration, customers get a free subscription to a newsletter offering pertinent details about cruise deals.The last thing you should know about Vacations To Go is that it has a "Best Price and Service" guarantee to protect you and your travel investments.Learn more by visiting VacationsToGo.com.
This article is copyright free. You are free to use it on a blog, website, in a newspaper, or newsletter.
To re-post this, copy the content above, or HTML on the right, and paste onto your site.