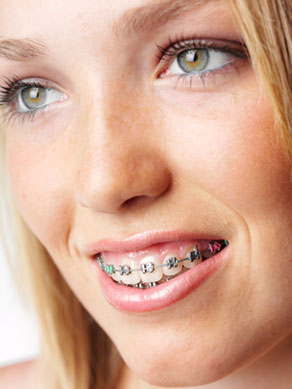 (NewsUSA) – A set of adult braces is just shy of $5,000 — on average, braces cost around $4,800, as estimated by the Journal of Clinical Orthodontics. Despite the unforgiving cost, without the proper care braces present oral hygiene challenges from discoloration to tooth decay.
"The accumulation of plaque puts wearers at risk for gum disease, tooth decay and discoloration," explains Dr. Mike C. Zauner, "which is why we dentists tend to be super strict on our patients about carefully cleaning around braces."
To steer clear of those risks and protect your investment, braces require the most methodical oral care routine available: rinsing, brushing and flossing. Read on to find three pieces of advice to help you or your family take better care of their braces.
1. Avoid sticky or sweet foods and bubbly drinks.
It can be painful to say goodbye (temporarily!) to some of your favorite treats, but the damage to your braces and teeth will always be worse.
To take good care of your braces, avoid hard foods, sticky candies, sweets and carbonated beverages. That means no popcorn, nuts, peanut brittle, ice, taffy, caramels, gum, sodas, corn-on-the-cob and the like. When eating occasional treats like soft cookies, cake or pie, brush your teeth afterward to rinse off the excess sugar as soon as possible.
2. Use the right toothbrush.
People with braces must be extra diligent about brushing their teeth. Dentists usually recommend a soft, battery powered toothbrush.
According to Dr. Manny Alvarez from the Fox News Health Talk, one of the hottest items on the market is an ultrasonic toothbrush — which is catching like wildfire because of the ultrasound technology especially designed for braces. The Emmi-Dent Ultrasonic Toothbrush uses powerful microwaves to destroy plaque and clean underneath wires and brackets. Known as the "no brushing" toothbrush, the technology provides the most thorough braces care available. To learn more about how ultrasound technology cleans braces, visit www.emmi-dent.com.
3. Floss carefully, floss often.
To floss with braces, feed the short end of the string through the space between the main arch wire and the part of the tooth closest to the gum. Work the floss on each side of the teeth by gently sawing back and forth. Don't use too much force, especially around the wires.
This article is copyright free. You are free to use it on a blog, website, in a newspaper, or newsletter.
To re-post this, copy the content above, or HTML on the right, and paste onto your site.