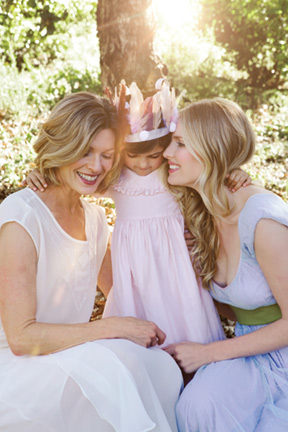 (NewsUSA) – Last year, flowers and jewelry topped the list of popular Mother's Day gifts — naturally. Many women enjoy the warmth that fresh flowers add to a room, almost as much as supplementing a never-ending jewelry collection.
But if you honored Mom with tried-and-true gifts last May, show your appreciation by exercising a few creative muscles this year. Do something different — seize the opportunity to show unflinching love and gratitude.
Need a little help? The gift experts at RedEnvelope (www.redenvelope.com) — a trusted source of ideas and inspiration for any occasion — compiled suggestions about how to find the best present for the moms in your life.
For the traditional mom: Traditional moms rarely stop working for their families yet never ask much in return. Whether she relishes a new book, long baths or champagne brunches, she deserves it all. Give her a reason to schedule some "me time" with a home spa treatment, like a Lavender Relaxation Spa Set and a new spring robe. Or if she likes to share with friends, indulge in a Champagne Treats Basket from Shari's Berries (www.berries.com).
For the contemporary mom: Whether it's your sister, daughter wife or mother, the contemporary mom maintains a stylish home and makes strollers look fashionable. While her glamour may appear effortless, reminders don't hurt. Brighten up her office or desk with a Mother and Child Orchid Garden (www.proflowers.com). If you're brave, consider a pair of Enamel Stud Earrings, only offered at RedEnvelope. The big, bold enamel earrings have a versatile feel that can be both retro and mod.
For the gourmet mom: The gourmet mom tends to throw the best dinners, perhaps a result of restaurant experience or just a deep-rooted love of good cooking. Either way, her taste buds deserve some treats she didn't make. If she has a sweet tooth, Shari's Berries delivers handmade Mother's Day chocolatey-covered strawberries and Cake Pops. For the potluck regulars, customize a glazed Stoneware Casserole dish with a nickname or favorite phrase at Personal Creations (www.personalcreations.com).
For the entertaining mom: If it's possible to have a monopoly on holiday parties, leave it to the entertainers. Entertaining moms are the first to send out a Google group invite to Sunday "Fun-day" at their house. Even though we can't attend every single one, they are admittedly some of the best parties. Surprise her with a lavish token of love, like a box of gourmet dipped berries one day, followed by two dozen rainbow roses the next. New Personal Creations picture frames allow for collage cut-outs reading anything from "I Love Mom" to "Family."
This article is copyright free. You are free to use it on a blog, website, in a newspaper, or newsletter.
To re-post this, copy the content above, or HTML on the right, and paste onto your site.