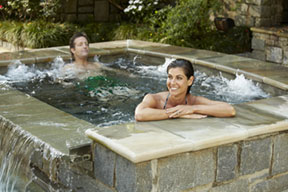 (NewsUSA) – When it comes to relaxation and restoration, there's nothing better than a long soak in a pool or spa.
Now, more than ever before, homeowners are looking for ways to recreate a professional spa experience in their own homes. That is because it's convenient, it can help save money and it is a way of making their relaxation experiences more personal and tailored to meet each person's specific needs.
All it takes to create a professional spa experience at home is a few feet of outdoor space and a little creativity. You can use attractive lanterns to light up the place, arrange comfortable and convenient seating, install coolers nearby to keep cold drinks close at hand and even install a nearby fire pit to make it more comfortable during the cool winter months.
Other ways to spruce up your spa experience include hanging pegs for robes, and installing an attractive wood deck box for storing towels and keeping slippers dry. Outdoor carpets are also nice to provide cushioning for feet, and surrounding your spa with tall flowering potted plants makes for an excellent privacy screen.
Of course, it takes a little bit of know-how to keep your spa in the best condition possible. The professionals at SpaGuard, a company that specializes in spa care, offer some tips to keep your home spa running smoothly:
* Circulation. Run your spa's circulation system daily to distribute antibacterial products.
* Cleaning. Use surface cleaner or spa mitts to clean the ring that forms at the waterline.
* Filtration. Clean your filter every four to six weeks to efficiently capture hair, oils and cosmetics.
* Chemistry. Follow a system designed to keep water clean and comfortable, kill bacteria, prevent stains and protect equipment from calcium buildup.
* Testing. Test the spa regularly with test strips or a test kit, and take a water sample to your spa dealer every four to six weeks for a pH and sanitizer analysis.
* Draining and filling. See your dealer to establish a personalized schedule based on frequency of use and number of bathers.
For more information about creating and maintaining your own backyard spa, and to locate a dealer near you, visit spaguard.com.
This article is copyright free. You are free to use it on a blog, website, in a newspaper, or newsletter.
To re-post this, copy the content above, or HTML on the right, and paste onto your site.