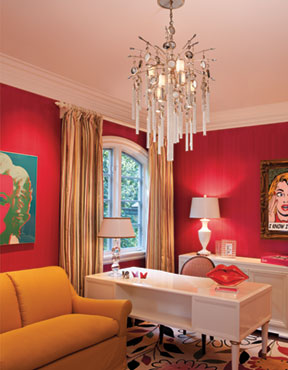 (NewsUSA) – Twenty years ago, a chandelier was a sure thing in two rooms in the home — the foyer and dining room. Fortunately, today's homeowners and lighting designers have broken those two-room barriers, allowing chandeliers to become statement-making additions to everything from bedrooms to closets.
The American Lighting Association offers the following information to help you embrace the trend and transform your home — and your lighting.
What's changing
about today's homes?
Today's decorating dictates a personality-driven décor and a lack of true rules, making it alright to mix a little traditional with a little modern.
"A lot of people are trying to make their homes a little bit more unique, so they are pulling away from chandeliers in traditional spots," says Jeff Dross, Corporate Director of Education and Industry Trends with Kichler Lighting.
So why chandeliers?
While chandeliers come in a range of styles, sizes and colors, the functions of chandeliers have certain commonalities. Their height and structure naturally pull the eye up and around a room, creating movement. Color or crystals can add visual interest, as can the mix of materials that make up the arms of a fixture.
"The illuminated candles and brilliant sparkle of crystal chandeliers provide multiple light points and create a vivid, less static environment," says Mike Hadank, director retail sales of North America, Swarovski Lighting.
Where can chandeliers be used?
Master bedrooms — some with expansive vaulted ceilings — have turned into mini living environments to accommodate relaxing and reading as well as sleeping. Bathrooms have become larger, and guest areas are not just throwaway spaces anymore, which means decorating these spaces is no longer an afterthought either.
"I continue to see them being used in guest powder rooms. It's a room really designed to be purely functional, but homeowners want it to look interesting," says Dross.
How are chandeliers changing?
Smaller light and electric sources have enabled lighting designers to create fixtures that are smaller in diameter, and use newer colors and styles that are more adaptable and even customizable. Proportions and center columns are changing, too, to accommodate both tighter spaces and ceilings that range from eight to 12 feet. As oversize furniture becomes less popular, the scale of contemporary chandeliers works better for newly streamlined spaces.
This article is copyright free. You are free to use it on a blog, website, in a newspaper, or newsletter.
To re-post this, copy the content above, or HTML on the right, and paste onto your site.