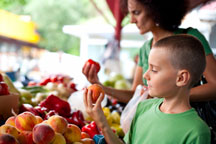 (NewsUSA) – A healthy diet is a necessity for individuals of all ages, but getting enough nutrients is especially important for school-age children. Not only are children learning and developing eating habits that will follow them throughout their adult life, they also need the right kind of fuel to stay focussed during the school day.
At times, children can be tricky. They may not always agree to eat celery sticks and peanut butter as a school-day snack. However, natural sugars, like those in fruit, instead of processed and value-less candy and potato chips, can play a key role in getting children to snack healthily — especially when they may be short on time.
Fruit offers fiber and minerals to improve performance in class, provide energy for sports and curb appetites. Encouraging children to eat fruit as their snack may also help reduce their risk for cardiovascular diseases, high cholesterol, high blood pressure and strokes later on in life.
Get creative during the school year with your afternoon snack preparations. One way to go is to stuff different fruit concoctions in whole wheat tortilla wraps to add a hearty twist to a sweet snack. For example, try this quick and easy Banana and Raisin Wrap recipe from La Tortilla Factory:
Banana and Raisin Wrap
1 La Tortilla Factory-100 Calorie Whole Wheat Tortilla.
1 small banana, sliced.
2 tablespoons of raisins.
4 tablespoons of fat-free whipped cream cheese.
1/2 teaspoon of cinnamon powder.
Directions:
Lay the wheat tortilla on a plate and spread the cream cheese very evenly. Layer banana slices along the center of the tortilla.
Sprinkle the raisins over the bananas, then sprinkle the cinnamon powder over the layered fruit.
To wrap the tortilla, fold in each end. Then take one side and roll away from your body in a tight jelly-roll manner. The end product should be a tight roll oozing cream cheese and bananas.
For more original recipes, visit www.latortillafactory.com.
This article is copyright free. You are free to use it on a blog, website, in a newspaper, or newsletter.
To re-post this, copy the content above, or HTML on the right, and paste onto your site.