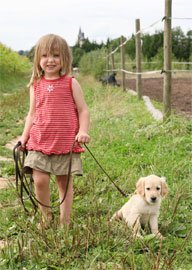 NewsUSA) – Spring is a time of rebirth and rejuvenation. Invigorated by warmer weather, many of us make our way outdoors to soak up the new found sun. But despite the cheerfulness outside, spring can often bring unwanted critters indoors -; by hitching a ride on our pets.

Before people take their pets for hikes or nature walks this spring, they should consider precautions to protect their pets – and themselves – from fleas and ticks.

A flea or tick infestation is no fun for the whole family. Flea saliva can cause anemia, dermatitis and transfer tapeworms – a dangerous internal parasite. Worse, fleas reproduce quickly and can infest whole homes, requiring professional extermination. Perhaps more harmful than fleas, brown dog ticks and Lyme-disease-carrying deer ticks typically enter homes through pets as well. Once in the home, they can begin laying up to 5,000 eggs at a time.

There is no need for pet owners to lock their dogs and cats inside all spring and summer. In fact, the National Pest Management Association, a 75-year-old non-profit organization committed to the protection of public health, food and property through proper pest management and homeowner education, offers these tips to Americans hoping to protect their pets and their homes from fleas and ticks:

– Avoid tick habitats such as low-growing, brushy vegetation along the edge of the woods or a trail.

– Check your pet thoroughly after you have been in potentially tick-infested areas. Finding and removing all ticks helps prevent disease.

– Check pets frequently for fleas and flea dirt, especially after being outside. Look for excessive scratching and licking.

– Bathe pets after walks or playtime with other animals, as fleas can jump from host to host.

– Talk with a veterinarian about prevention and treatment options available to kill fleas and flea eggs.

– Wash pet bedding, collars and plush toys.

– Wash bed linens and vacuum carpets, floors and furniture frequently. Empty vacuum bags and throw the contents away in an outside receptacle.

– If you suspect a flea or tick infestation, contact a licensed pest professional immediately to treat the pest problem.

For more information and tips, visit www.pestworld.org.