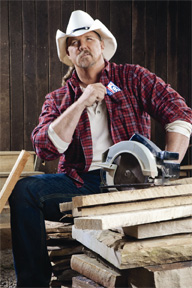 NewsUSA) – Country music superstar Trace Adkins, known for his baritone voice, rugged good looks and chart-topping songs, will now be known for something else. Trace has become the new face and voice of BC Powder.

"I'm very particular about attaching my name to products or causes, unless it's something I use or believe in," said Adkins. "My relationship with BC Headache Powder is personal and runs deep. I still remember when my grandfather gave me my first BC. I even remember the product advertising jingle from the '70's. I am proud to be representing BC, especially on tour in front of thousands of fans."

BC Powder (www.bcpowder.com), which was first introduced in 1906 by Bernard and Commodore Council, offers temporary relief for discomfort associated with headaches, minor body aches and fever. Because BC is a powder, it gets into your bloodstream fast to provide fast, effective relief.

As a spokesperson for the next two years, Adkins will record radio ads, be included on BC's Web site, perform songs at exclusive events, and conduct a BC Headache Powder sponsored concert tour in 2010 that will include more than 80 national concert stops. Currently, Trace is sponsored by BC Headache Powder for 38 tour stops on the "Shine All Night" Tour with Martina McBride.

"Regular, hardworking people will now share the spotlight with Trace Adkins to tell the story of how good and fast BC works on headaches and tough body pain," said Darren Singer, VP Marketing BC Powders. "Once we heard Trace's personal history with BC, which has spanned three generations, we had to make him another member of our storytelling team. He is a tremendous asset to us and a huge draw for people who work hard for what they have."

To learn more about how regular, hardworking people treat work-related aches and pains, visit www.bcpowder.com.