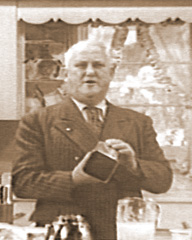 NewsUSA) – In 1949, Americans watched in amazement as William G. "Papa" Barnard, the founder of Vita-Mix, liquefied eggshells, whole vegetables and whole fruit (seeds included) in his powerful stainless-steel whole-food blender. A super-salesman and pioneer in whole-food nutrition, Barnard proclaimed the healing power of Vita-Mix whole-food meals in a compelling pitch that made the phones ring — and made history.

In the early days of television, it was not unusual for companies to create shows, including children's programming, strictly for product placement. But the infomercial — a feature-length product demonstration — was new. In fact, according to the Direct Marketing Association, Papa Barnard starred in the first infomercial to air in the United States.

Infomercials have come a long way — as has Papa Barnard's product, the Vita-Mix machine. Today's Vita-Mix 5200 performs the work of 10 kitchen appliances. The blenders make ice cream, grind grains into flour, knead dough, liquefy whole fruits into juice and make piping hot soups, no stove required — the blades generate heat as they spin at 240 miles per hour.

The blender's many functions certainly lend it to demonstration. Every year, in the U.S. alone, Vita-Mix demonstrates its machines in over 2,000 county fairs and shows.

To keep Papa Barnard's spirit alive, Vita-Mix launched its "Pitch Me!" video contest. Fans can create and submit videos showcasing their Vita-Mix skills. The winner may become the next great Vita-Mix TV demonstrator, receiving a Grand Prize of $10,000 and may each get the chance to star in upcoming Vita-Mix television commercials and web-based videos.

"We think 'Pitch Me!' is the perfect way for us to find creative people to reinterpret the Vita-Mix demonstration in their own way." says Dan Kleps, senior manager at Vita-Mix.

Contestants will be voted on by the public and chosen by Vita-Mix for their creativity, popularity and the overall quality of their video. Highly rated submissions may air on television to publicize the contest. Vita-Mix will give away $20,000 in prizes, including the $10,000 grand prize.

For more information or to submit a video, please visit www.vitamixtv.com.