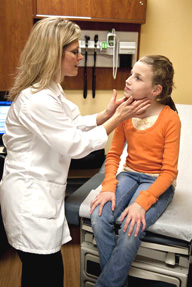 NewsUSA) – Back-to-school physicals are an important step in any student's school career. After all, going back to school is a hectic time, and a child's performance in school can be affected by his health.

Many schools have health care requirements that must be met at the start of a new school year. Taking your child for a back-to-school physical will ensure that he will be able to handle the physical and psychological stress of school, while also giving you the opportunity to learn about important vaccines that will protect against diseases like meningitis and chicken pox.

Take Care Clinics offers these tips for parents who want to keep their kids healthy throughout the school year.

* Vaccinations. Stay up to date on all of your school's vaccination recommendations. Visit a Take Care Clinic to find out which vaccinations are right for your child.

* Create a Bedtime Routine. Earlier wake-up times call for earlier bedtimes. Develop a regular bedtime routine to ensure your child is getting plenty of rest.

* Plan Healthy Meals. Nutritional breakfasts and lunches help your child stay focused and energized. Be sure to pack plenty of healthy snacks and low-sugar beverages.

* Keep Active. Make it a family affair by planning weekly bike rides, nature walks and other activities to ensure your child gets the exercise they need.

* Update Your Calendar. Set up a central family calendar to help you stay organized and manage your child's busy schedule.

* Stay Safe. Be sure your child knows his phone number and address and is aware of school bus and playground safety rules.

* Physicals. Drop into your local Take Care Clinic for a convenient $30 back-to-school physical designed to help your child meet school health care requirements. Sports physicals are also available at clinics for the same price except in Kansas.

Take Care Clinics are open seven days a week and weeknights and can be found at select Walgreens. They combine best practices in health care and the expertise and personal care of its board-certified providers, Take Care Nurse Practitioners and Take Care Physician Assistants, to fill a critical need in America by providing easy access to health care.

For more information, visit TakeCareHealth.com.