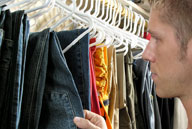 NewsUSA) – According to Nielsen forecasts for 2010, consumers will continue to be frugal with their spending habits as the jobless recovery, like the government bailouts, hasn't yet affected their finances. Considering this, it's not a surprise that a lot of American consumers are putting more effort into learning how to better budget their finances and pay less when it comes to shopping. The lesson is a hard one, but it pays off if shoppers learn to make smart purchases that will help them get the most for their money.

Whether it be for high-end items or food, people are trying to stretch the value of their dollar. This is especially true with clothing. In a time when a pair of jeans can cost more than $100, some clothing brands realize the need for affordable quality clothing — and both loyal and new customers are heeding the savings.

The Wrangler brand is one of those companies offering value in a variety of durable men's jeans, pants and shirts — all retailing for less than $20 and available nationwide at mass-market retailers like Walmart. Today, one out of every five pair of jeans sold in the United States bears a Wrangler label.

Even with this smart shopping, Americans continue to be cautious with every dollar they spend.

"While the economic climate has shown some improvement, retailers are not out of the woods yet," said Phil Rist, executive vice president, strategic initiatives, BIGresearch. "With a variety of factors still up in the air, including uncertainty over job security, many Americans just aren't buying into the talk of recovery and are looking for great prices and high quality in their product purchases."

To help Americans feel more confident when making spending decisions, companies like Wrangler strive for customer satisfaction. As a statement of the brand's commitment to high standards, Wrangler extends a full one-year warranty on all of its clothing with a 100 percent satisfaction guarantee so consumers know they can count on the color, shape, fabric and construction maintaining the high-end look and feel — even without the high-end cost.

To learn more about the brand's affordable offerings, visit www.wrangler.com.