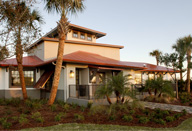 NewsUSA) – You don't have to sacrifice great style to get a great, green look in your home. You can use these five simple design tips from the 2009 HGTV Green Home in Port St. Lucie, Fla. to make your living environment more energy-efficient and environmentally friendly. HGTV Green Home designer Linda Woodrum's ideas can also help make your green home more visually appealing.

1. Welcome Home. Create a welcoming entrance to your home by setting your foyer apart from the rest of the house with a shot of color. Use a fabric, tile, texture or decorative motif as inspiration, and use low-VOC paints and painter's tape to recreate the design on the wall. You'll get a lot of pow for very little money.

2. Reduce, reuse, recycle. Unique pieces make a room richer and a lot more interesting. Decorating green is about using antiques, repurposed items and salvage materials. Take a look at the 2009 HGTV Green Home for inspiration on how to use everyday items in unexpected and amazing ways.

3. Create a mood in your master bedroom. Capture all that's good about a place or location through your choice of color and décor, but keep it clean and natural with organic and recycled materials. The recycled glass tile in the HGTV Green Home master bedroom and the wall color in the bedroom evoke a retro-South Florida look, yet have a natural, clean feeling worthy of the finest spa.

4. Saturate with color. Using one color throughout a room creates a calm, cozy retreat. The HGTV Green Home sitting room carpet and walls are all the same inviting color. It's easy to recreate this look with low-VOC paint and environmentally friendly carpet — a perfect example of how green living also means big style.

5. Use durable materials in high traffic areas. Your front and back entrances are subjected to a lot of wear. Using beautiful ceramic tile in both locations is a great way to set them apart from the living areas, yet tile is environmentally friendly and easy to maintain.

For more information on this year's HGTV Green Home Giveaway, visit www.hgtv.com.