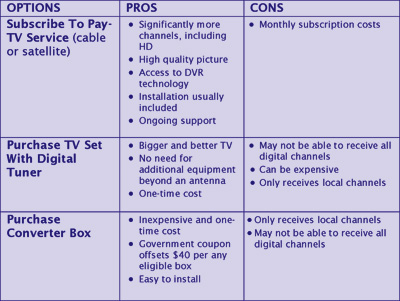 NewsUSA) – Americans still using rabbit ears on their analog television sets got a rude awakening June 12 when their favorite shows were replaced by a screen full of static. That's because the long-awaited digital transition — where all full-power stations stop broadcasting their analog signals and switch to all-digital signals — finally arrived. If you or someone you know lost one or more channels, don't worry, you have several options to restore your TV that are easy to do and easy on your wallet.

An inexpensive way to get over 120 top channels, including locals, is to try a satellite TV system like DISH Network, which you can subscribe to for the first six months for only $14.99 per month.

If you prefer to watch only the local channels, invest in a TV set with a digital tuner, or purchase a converter box for your existing TV set. Many HDTVs, 32 inches and smaller, can cost less than $300, and with a government coupon, DISH Network's DTVPal Plus converter box (www.dtvpal.com) costs only $19.99. The converter box includes an enhanced tuner built for weak signal areas, analog pass-through, timer settings and an onscreen program guide, all in a package the size of a paperback novel.

Most digital tuner TVs and converter boxes can be found at retailers like Sears or Kmart. To subscribe to DISH Network's digital service, visit www.dishnetwork.com.