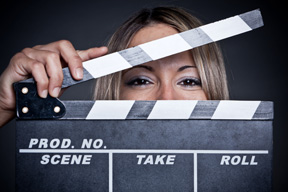 (NewsUSA) – It used to be a tongue-in-cheek dance of reading the innuendo between the lines, but now sex and movies are unabashedly holding hands and swinging arm-in-arm — or hand-in-wallet.
The marketing mantra "Sex sells" has become a promotional staple — it's evident in most TV commercials and successful films. "Charlie's Angels" and "Lara Croft: Tomb Raider" are two of many successful franchises founded on the power of sexy women kicking butt. The fact is, beautiful women snag the male viewer's attention like a moth to a flame.
After all, half the allure of action-packed blockbusters like the James Bond movies, "Mission Impossible" and "Transformers" is waiting to see which sexy female co-star steals the scene.
"'Sin City' grossed almost $75 million in ticket sales; it didn't hurt that the film featured a literal army of gorgeous prostitutes. Since the 1970s, sex in film has shifted from accepted to in-demand," says Peter Hoffman, CEO of Seven Arts Pictures. "More recently, the demand for sex and sexy women is seen in college movies like 'American Pie.'"
Seven Arts recently released its newest film, "The Pool Boys," into the sex comedy ranks. The theme focuses on a Harvard student desperate to earn next year's tuition, and he teams with a pool boy, a gardener and a smokin' hot escort. The result: Hilarious, sexy debauchery and the party of a lifetime in a Beverly Hills mansion. "The Pool Boys" stars Matthew Lillard ("Scream," "The Descendants"), Brett Davern (MTV's "Awkward."), Efren Ramirez ("Napoleon Dynamite," "Eastbound & Down"), Rachel Lefevre ("Twilight, New Moon," CBS's "A Gifted Man"), and Hollywood's favorite comedian, Tom Arnold.
"With these movies, consumers aren't only buying the laughs, they're buying the scantily clad women and busty cleavage," says Hoffman.
Learn more about "The Pool Boys" movie and see the R-rated trailer at www.ThePoolBoysMovie.com, then see the movie today "On Demand" from your local cable provider — also premiering on computers, mobile phones, tablet computers and DVD.