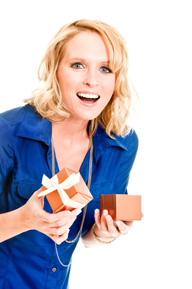 NewsUSA) – Americans are discovering that the holiday season is no longer about purchasing an overload of disposable gifts. Instead, we are choosing to invest in a few meaningful items that hold emotional value and will last forever.

Here are some tips to ensure that your loved ones feel extra special this holiday season:

– Give an experience. Instead of buying gifts that will be quickly discarded, arrange a memorable excursion for your loved ones that will also bring you closer together. Plan a trip. It can be as elaborate as a European excursion or as simple as a day at the local museum. Then frame the photos from your outing as an added gift, so everyone will always remember the experience you shared.

– Choose heirloom-quality jewelry. When choosing a piece of jewelry, don't even consider those that will tarnish or wear away easily with everyday wear. Choose jewelry that will last a lifetime. It's worthwhile to invest in pieces set in beautiful, long-lasting platinum, since they can be passed along for generations to follow.

Platinum's strength makes it ideal for securing stones or creating unique pieces. Designer, Jewelry by Gail stretches and twists platinum to create intricate details not possible with other metals, while Erica Courtney uses platinum because its natural white color casts no tint on her colorful gemstones.

Hollywood's top stars appreciate platinum's lasting value. "When Shiloh Jolie-Pitt turned three, Brad Pitt gave his daughter two platinum and diamond necklaces," says jewelry and style expert Michael O'Connor. "And anyone can give the gift of platinum because it comes in a wide variety of price points, starting

at a few hundred dollars from BlueNile.com. Affordable platinum pieces include stud earrings, cuff links and pendants," adds O'Connor.

– Give gifts that convey your love. In a time when most meals are simply popped in the microwave, a gift of homemade food will show your loved ones that they are worth the extra time and effort. For a gift that will make a special person smile all the time, write an original poem or a sentimental memory about the recipient, and have it professionally framed. You might even create a scrapbook with photos and memorabilia from the times you've shared.

For more ideas, visit www.preciousplatinum.com.