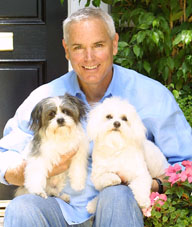 NewsUSA) – While many people are aware of how their own lifestyle affects the planet, they may be surprised to learn how much of an environmental "paw print" their four-legged family members are leaving behind.

According to Anthony Zolezzi, eco-entrepreneur and author of "How Dog Food Saved the Earth," there are many "green" changes you can make in and around your home to safeguard your pet's diet and environment.

"When it comes to saving our planet, the focus has always been on our own carbon footprint -; but I would challenge you further to look at the carbon "paw print" your family pets are leaving behind, and examine their role in protecting our Earth from excessive pollution," said Zolezzi.

Through Zolezzi's work, which involves promoting social responsibility and green programs, he got involved with launching one of the first pet foods on the market with U.S. source-verified meat and poultry -; Pet Promise.

"When we purchase natural and organic products from family farmers who support sustainable agriculture, we also support a cleaner environment. Our pets can help make a difference when we feed them food products sourced from these same family farms," said Zolezzi.

The sale of Pet Promise has helped eliminate more than 88 million doses of antibiotics in the food chain and 15 million doses of artificial growth hormones fed to cattle. Through this endeavor, Zolezzi and his team have helped support more than 1,500 U.S. family farmers who are committed to the humane treatment of animals and using natural and sustainable methods to protect the environment. For more information, visit www.PetPromiseInc.com.

Here are some additional tips to help you keep your pet's environment chemical-free and green:

* Stay off the lawn. Keep your animals away from the lawn or garden when treating them with fertilizers, pesticides or insecticides until it dries completely.

* Don't clean house and play fetch. Never allow your pet access to areas you are cleaning. Some cleaners might only cause a mild upset stomach, but others could cause severe burns of the tongue, mouth and stomach.

* Keep the garage clean. Store all automotive products such as oil, gas and antifreeze in areas away from pets. Just one teaspoon of antifreeze can be deadly to a 7-pound cat, and less than one tablespoon can be lethal to a 20-pound dog.