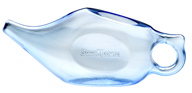 NewsUSA) – With a growing consumer interest in safe, natural and effective ways to treat sinus problems associated with colds, flu and allergies, neti pots, which date back more than a thousand years to Ayurvedic medicine, have soared in popularity.

According to a recent survey published in the Wisconsin Medical Journal, 87 percent of family physicians reported recommending neti pots, which are used for nasal washing with a saline solution, to their patients for one or more conditions.

But despite their long history, neti pots, which look like tea pots with a long spout, have remained virtually unchanged. Now, with daily nasal washing becoming commonplace, a clear change is being made to neti pots to help make them not only more user-friendly, but visually appealing.

Usually made from a solid colored ceramic or plastic, neti pots are now available in a clear, lightly tinted blue version. SinuCleanse is the first brand to introduce this innovation in a version of its best-selling neti pot.

In addition to enabling the user to see if the saline solution in the neti pot is completely mixed and pure, the clear design allows for better monitoring of the flow and volume of saline solution during nasal washing.

Initial reaction to the new neti pots has indicated that they are proving very popular among consumers. A recent market research study conducted by Robert Hale and Associates (www.roberthaleassociates.com) shows that the new clear blue Neti Pot is preferred seven to one over competitor's neti pots, such as Neilmeds.

"The new SinuCleanse neti pot gives consumers a clear choice that allows them to monitor the solution, while the

'purity' of the design enhances

ease of use and motivates daily compliance," says Diane G. Heatley, M.D., developer of the SinuCleanse nasal wash system and Associate Professor of Surgery and Pediatrics at the University of Wisconsin School of Medicine in Madison, where she practices pediatric otolaryngology. "And studies on long-term daily usage have shown the distinct health benefits of regular nasal washing, in addition to the documented benefits for treating a range of sinus issues such as cold, flu and allergies and reducing the frequency and duration of colds and flu."

For more information, please visit www.sinucleanse.com.